For the very first time, every Finalist for both the UK Outstanding VA and UK Best Newcomer VA categories had been placed first in their category by at least one member of the Panel of Judges. What a fabulous indication of how strongly competitive the range of candidates are, and how everyone has an audience that they appeal to.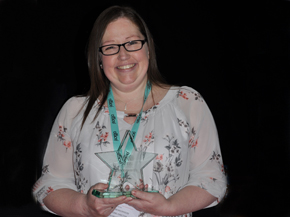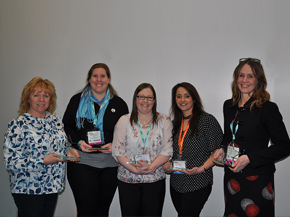 UK Outstanding VA 2018 – Winner Gwen Backhouse of Curlew Secretarial Solutions (Cumbria)
All flag bearing multi-award winners (group picture left to right): Heather Greig (VPA-NI), Louisa Stewart (Blue Ninja), Gwen Backhouse (Curlew Secretarial Solutions), Ruth Dyer (RDVA), and Fiona Macpherson (Support 4 Success) – the full list of finalists for UK Outstanding VA 2018 – a brief profile introduction …
Heather is a leading multi-award winning VA based in Northern Ireland and a great advocate for 'giving back' and supporting the local VA professional community. A long established professional voice in the VA world.
Louisa won Scotland's VA of the Year 2017, a true modern day digital nomad, and someone that is already supporting other VAs, and has recently founded a new VA group for networking in Scotland.
Gwen (also pictured above left) has won UK Best Newcomer VA, North West Regional and then National title, England VA of the Year 2016, and has just been announced as UK Outstanding VA 2018. A magnificent set of achievements, and all in under 3 years.
Ruth won UK Best Newcomer VA 2017 and is already an established registered professional in specific admin disciplines – someone who is making significant strides and being successful in quickly expanding her young business.
Fiona continues to build her business and has been on a great journey through the UK VA Awards from VA of the Year Regional Runner Up to North East VA the Year 2017 and more recently England's VA of the Year 2017, doubling her number of VA associates during that time.
2018 Runner Ups (left to right, below): Fiona Macpherson, Ruth Dyer, Louisa Stewart and Heather Greig.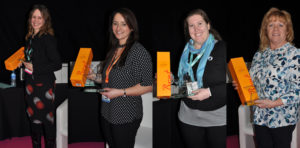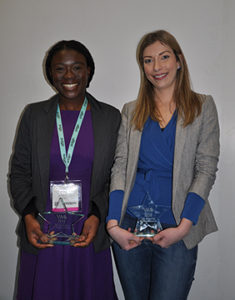 UK Best Newcomer VA 2018 – Winner Toks Adebanjo of TA Virtual Assistant (TAVA) – Lothian
Runner Ups: Felicity Webb of The Virtual Assistant UK, (pictured above right) and Linzi Jewitt of Linzi Jewitt Virtual Assistant (Linzi was unable to attend on the day).