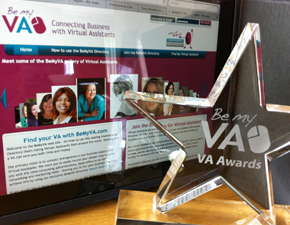 Lunchtime in the Interactive Theatre saw the remaining announcements and presentations for the VA Awards 2014 with the Regional winners considered for the title of VA of the Year for England 2014.
VA of the Year for England 2014:
Winner: Jane Cattermole of Bay Tree VA www.baytreeva.co.uk
Runner Up: Dawn Lane of Your Office On-Line www.your-office-online.co.uk/
During this session, the shortlist for the Best Newcomer VA had been considered and the process advanced on to announcing the four finalists:
Helen Brown of Paramount Services www.paramountpa.co.uk
Tanya Kuhrt of The Office HQ www.theofficehq.com
Angela Proud of Angela Proud www.angelaproud.co.uk
Anita Turner of Virtual Lilly www.virtual-lilly.co.uk
VA of the Year for England and the Finalists for Best Newcomer VA go on to the Grand Finals at www.vaconference.co.uk on 21st November 2014. We wish them all the best of luck.
Please see www.vaconference.co.uk/news.html for more details of the Regional winners.