The 2017 Members Voice Awards have been announced and we had the pleasure of presenting some of the 'Most Popular' Award winners with their coveted Stars at office* show 2018.
PA Life and Todays PA are shaping up to become 'the invincibles' as they both scoop their respective category awards for the 4th year running – that really is an amazing achievement!
The recipients were thrilled with the breaking news, announced on Day 1 of the show. (28th Feb).
So who can stop these invincibles in the run up to the 2018 Awards?
Pictured below are 4 time winners – the PA Life team (left) and Todays PA (right)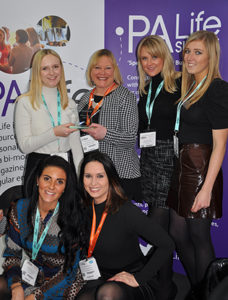 Further to these 4 times winners above, other 'Most Popular' winners to note in the world of PAs are
Best On-line Forums for the PA: LinkedIn – PAs, EAs, VAs and Senior Administrators a 3 times winner
Best Books for a PA: A to Z Pearls of Wisdom for Executive PAs – Lindsay Taylor a 2 times winner
Best Virtual Assistant Training Providers: VACT – Amanda Johnson a 2 times winner
Good luck to everyone for 2018, and if you want to join in the fun, just remember that our members vote on what they see and experience over 12 months, (and then tell us), so start making those good impressions from now!
Pictured below, more of the rather happy winners: Lindsay Taylor (left) and Amanda Johnson (right)