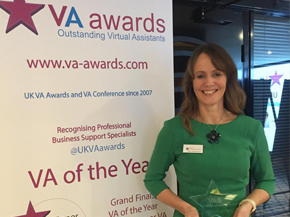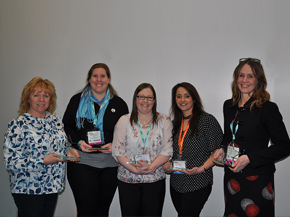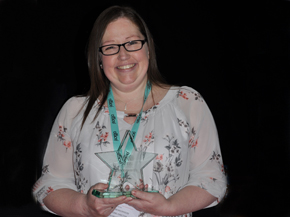 Pictured above – from 2017 Regional and National award winners to UK Outstanding VA 2018 – some of the iconic VAs to aspire to.
The latest VA profession's flag-bearing, multi-award winners (group picture left to right): Heather Greig (VPA-NI), Louisa Stewart (Blue Ninja), Gwen Backhouse (Curlew Secretarial Solutions), Ruth Dyer (RDVA), and Fiona Macpherson (Support 4 Success) – gathered as the finalists for UK Outstanding VA 2018 – here is a brief profile introduction …
Heather is a leading multi-award winning VA based in Northern Ireland and a great advocate for 'giving back' and supporting the local VA professional community. A long established professional voice in the VA world.
Louisa  won Scotland's VA of the Year 2017, a true modern day digital nomad, and someone that is already supporting other VAs, and has recently founded a new VA group for networking in Scotland.
Gwen (also pictured above right) has won UK Best Newcomer VA, North West Regional and then National title, England VA of the Year 2016, and has just been announced as UK Outstanding VA 2018. A magnificent set of achievements, and all in under 3 years.
Ruth won UK Best Newcomer VA 2017 and is already an established registered professional in specific admin disciplines – someone who is making significant strides and being successful in quickly expanding her young business.
Fiona (also pictured above left) continues to build her business and has been on a great journey through the UK VA Awards from VA of the Year Regional Runner Up to North East VA the Year 2017 and more recently England's VA of the Year 2017, doubling her number of VA associates during that time.
The UK VA profession has long had high quality benchmarks to aim for and the UK VA Award winners can assure their clients that they can reach those heights. Since the re-launch in 2014, the UK VA Awards have been positioned as a recognised and coveted business award, setting standards of entry at the highest possible levels to ensure credibility in the world of business.
Do the award winning VAs get value out of the process and winning these awards – you can bet that they do! Great success stories were shared about the positive impact on their businesses at the UK VA Conference 2018.
Continuous Professional Development – helping to set the benchmarks for the UK VA Awards!
At the recent UK VA Conference (March 2018), John Palmer (Chair of the Panel of Judges), provided both insight and tips towards how Judges may view Virtual Assistants and how they should approach entering for both the UK VA Awards and other recognised, credible, and prestigious business awards.
He said, "As an admin professional you cannot expect to win awards if you submit an application form for any business awards programme with spelling or grammar mistakes. You have to demonstrate that you are at the top of your profession. Quite simply, focus is required, please don't sell yourselves short. Be sure to get your application forms right – get help if necessary!"
At the presentation ceremony for UK Best Newcomer VA  2018, he said, "this year, despite record entry levels, as a general feedback comment, we have been disappointed by the standard of knowledge for the basic requirements in the application process about the core elements for running a VA business, particularly the essential legal and insurance requirements.
We have seen an absence of documented training plans and CPD activity, which indicates how an individual is thinking about their own skill-sets and the management of their business and potentially expanding or improving services provided.
Candidates cannot expect to progress to the final stages of the UK VA Awards with significant inaccuracies in dates or information provided, erroneous legal notices, poor processes, spelling or grammatical errors.
However, despite these basic errors being evident, we can see that many of the applicants are actually potentially good quality candidates."
So, the question becomes, just where is the problem?
The problem and the solution?
John has later added, "On reflection, the vacuum of knowledge for the 2018 Newcomer category appears to be trending around applicants that have been working with a number of emerging self-titled Experts, Trainers, Coaches and Mentors that do not appear to have sufficient knowledge and/or business experience of their own to deliver their 'knowledge sharing' services!
Shockingly, it would appear that some of the more recent students of the VA profession may not be getting what they have paid for from their current training or knowledge providers".
The concern goes even deeper, he added, "In certain circumstances, some of these oversights could expose the student VA to financial penalties and fines from HMRC and other regulatory authorities, and in some 'worst case' scenarios, inadequate insurance cover or, perceived cover being invalid or, prosecution."
John summarised, "Unfortunately, the loudest voices out there on forums and marketing channels such as social media are not always the experienced experts they purport to be. We must urge those en route from PA to VA and all others from any other disciplines: to perform their own appropriate 'due diligence' on all of the training providers they may be considering or working with; and for those VA students to spend their training and personal development budgets wisely in the future. If you are looking for training, please research, gather feedback, ask questions in the 'open' VA and PA forums, and be sure that any testimonials are completely genuine."
Good practice business guides regularly suggest that any professional or professional organisation should provide at least three service providers to check out – and always ask if they will receive a commission for referring leads to any one of those, and in this case, a training provider.
"Hopefully this message will be heard loud and clear by all of the UK VA communities, and later in the year we can see that the 2019 Best Newcomer category applicants have really raised their game.
The most frustrating part of the current general standards of the Newcomer category is that we have been here before. Much work has been completed as a collaborative effort 4 and 5 years ago by a range of senior and long established VAs and VA organisations in the UK. Once again, we will work closely with the UK VA profession to get as many as possible back on track."
Raising the bar towards a bright future!
Looking forward, John says, "We will be raising the bar for the next cycle of the UK VA Awards programme for 2018 and especially the UK Best Newcomer 2019 category. Starting now, this will include a review of the application documents and some other initiatives to focus on improving the VA profession's overall standards. Some of what has been published in recent times really does miss the basic benchmark standards required to be fully compliant and run a successful VA business."
The revision of those documents should be completed within the next two weeks, and ready for the first application packs to be sent out by the end of March.
Will there be interviews included in the review of the process? John replied, "We are aware of these thoughts in some forums, and never say never. Of course, we will consider and discuss, once again.
However, interviewing a business award candidate is now recognised (by many in the professional awards community) as a somewhat 'short sighted' approach – the thinking being that someone can quite easily give well-drilled answers and a bright smiley face for 30, 45 or 60 minutes. But, does that truly reflect their business competencies and day-to-day practices? Would that interview session actually tell us they never answer their phone when you call or if they have any voicemail facilities in place? Our time is probably best spent researching.
The current UK VA Awards applicant processing is way ahead of well-drilled interviews, with the review methodologies and approaches that we do have in place, we believe that we can build a much richer and multi-layered picture of a business that far better reflects how someone operates their business, how they interact with the world, and also validate the applicant's information. The first 'secret' ingredient to this is so simple – free and publically available information on the world wide web – that's what a prospective customer should be extensively checking out before engaging any outsourced service!"
Good tip! Perhaps prospective VAs need to do that too – do their comprehensive homework on who to train with?
Award Winning VAs
Fortunately, those entry-level critical concerns do not spread to the more established VA business owners, such as the Regional and National VA of the Year and UK Outstanding VA categories.
Whilst smiling, John said, "We can be very proud of all our UK VA Award winners (including 2018's UK Best Newcomer VAs). Their standards continue to go from strength to strength with exceptional  candidates clearly demonstrating their broadening development of business knowledge. This is evidenced by repeated successes in highly credible Regional and National Business Awards outside of the VA profession.
These exceptional individuals go on to run and develop their very successful businesses and some do 'give back' to the VA profession by mentoring rookie VAs in their local areas and business teams.
Rest assured, with those icons and flag-bearers of the VA profession in place, they will help lead the way and maintain professional standards by setting the very best of VA business benchmarks to aspire to."
Many simple things done well, generally provide the very best cornerstones to make a successful VA business!
UK VA Awards 2018-2019 – open for entries
To participate in the 2018-2019 UK VA Award categories, please send your expressions of interest to awards@bemyva.com. First regional deadline is expected to be 11:30pm Friday, 20th April 2018 (to be confirmed).