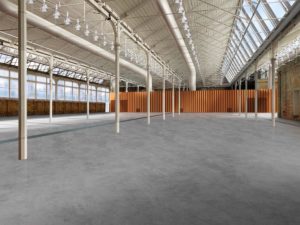 Woolwich Works – London's newest event and creative district – announces official launch date
Spanning historic industrial buildings on the Royal Arsenal in Woolwich, London, the landmark new event and culture hub will open its doors on Thursday 23rd September 2021
Woolwich Works has transformed five historic Grade II and Grade II* listed buildings on the Royal Arsenal into what is set to become a thriving new space for events and the arts.  The multi-million pound council-led project will provide extensive event and conference facilities across seven flexible spaces with a maximum capacity of 1,200 in theatre style.
Featuring an impressive flat floor space, two main event spaces, an external courtyard and studios. Woolwich Works has been configured with Covid-19 guidelines in mind.  As a newly designed and created venue, Woolwich Works features a significant investment in technology capable of hosting digital and hybrid events, supported by dedicated on-site technicians.
Woolwich Works will provide events buyers with a creative new space, featuring strong links to the arts and culture.  Woolwich Works is easily accessed from central London, docklands, London City Airport and major road networks.
Originally due to launch in 2020, Woolwich Works opening has been delayed by ongoing disruption to building works and increased safety measures as a result of Covid-19. With the majority of construction nearly complete, internal fitting will soon begin followed by finishing touches – ready for delegates and event attendees to explore and enjoy this September.
"After a long wait we are ready to welcome people through our doors, conduct site visits and start planning events," comments Justicia Adjei, Woolwich Works Event Sales Manager: "Woolwich works has fantastic facilities, great access and creative links that will make it the ideal venue for clients from both the corporate and association sides of the market.  Whether it be a dinner, award ceremony, large scale conference or smaller meeting we have the capability to deliver and are particularly lucky to have invested heavily in the technology necessary to run hybrid events."
Speaking about the launch in the wake of the pandemic, James Heaton, Woolwich Works Chief Executive, comments: For all who have found ways of working together from home over the past year, nothing can replace live events as way of uniting people to imagine, create and innovate.  I'm excited that our beautiful new venue will have a part to play in enabling London's conferences and events to come back bigger and better than ever before."
Woolwich works will also offer local residents access to music, theatre, dance, spoken word, comedy, exhibitions, food and drink and more. Woolwich Works and its resident artistic companies will work with the local community and schools on a wide range of projects and schemes once the district has officially launched, alongside creating jobs in the area with meaningful progression routes into the event and creative industries.
Woolwich Works will be home to internationally acclaimed local performing arts companies including theatre Punchdrunk, Europe's first majority black and minority ethnic orchestra Chineke! Orchestra, as well as National Youth Jazz Orchestra (NYJO), Greenwich-based dance company Protein and the Woolwich Contemporary Print Fair.
Commenting on the announcement, Valerie Vaughan-Dick, Woolwich Works' Chair, says: '"We are so pleased to be at the stage that we can announce the opening of Woolwich Works. The team has been working hard and remained dynamic with plans throughout the unprecedented pandemic.  We know employment numbers have been affected in the event sector and we are in a great position to start tackling that challenge. Initiatives such as our 'Step Up' programme and the relationships we are building with local colleges, training institutions and Universities will support this."
Leader of the Royal Borough of Greenwich, Cllr Danny Thorpe: "Woolwich is the civic and cultural centre of the borough, and now it will be an event and arts destination for people from across London, England and beyond. Our residents will benefit from new jobs and the extra visitors will bring money into the local economy, as well as all of the opportunities that will arise from having a world class facility like this on our doorstep. People have long said that London is shifting east, and to be opening Woolwich Works in our part of the city is further proof of that."
Cllr Denise Hyland, Woolwich Works Trustee and Deputy Mayor of the Royal Borough of Greenwich: "Woolwich Works is set to be a fantastic asset for Woolwich, the Royal Borough of Greenwich community and the wider region. After a year of turmoil this is another sign of hope that normality is returning. The work the Trust is planning along with its Resident Artistic Companies is set to enhance and complement the community initiatives we already have in the borough."
Guided by the government's roadmap for lockdown restrictions easing, Woolwich Works is currently ready to welcome visitors from Thursday 23rd September 2021.
Visit the Woolwich Works website learn more www.woolwich.works.