Despite "the Beast from the East" storm warnings and 'snowmageddon' media headlines that had impacted on timely travel options around London, only two of the scheduled 12 Conference agenda headline speakers were stranded mid-journey and both by the cancellation of flights from Glasgow, as the more severe snowfall and high winds spread across the UK.
For those that managed to make it – let the sessions begin!
VA Breakfast – Keynote Theatre
With record bookings of more than 160 potentially hungry brekkie delegates for the 6th year of the VA Breakfast at office* show, VA Day got off to a brisk and informative start, with the multi-award winning panel of Amanda Johnson (VACT), Gwen Backhouse (Curlew Secretarial Solutions) and Joanna Hawkins (Executive VPA)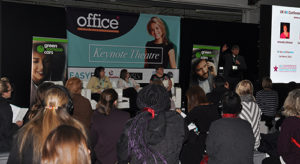 Session 1: Survive and Thrive with Support Networks
Speakers: Joanne Munro, (The VA Handbook), Angela Dawson (Admin Doctor, deputising for Caroline Wylie of Society of Virtual Assistants) and Lina Bourden (FSB Women)
Joanne Munro explained the background and set up of The VA Handbook and is also a 'public' Facebook group, and how new services have been introduced: 'The Rock Stars', a private Facebook group for trainees of the DIY VA course; and 'The All Stars', for established VAs wanting to learn new skills.
Caroline Wylie of SVA has also created a blog about her thoughts for the session here, and covers leading topics, and news of the initial details of potential scams reported last year to SVA by VAs – handout can be seen here.
Lina Bourden, explained the services offered by the Federation of Small Business (FSB) and how she is heading up the initiative in London for FSB Women, a group focussed on encouraging Women in Enterprise – see here
Pictures of session speakers (left to right) Joanne, Angela and Lina

Session 2: GDPR – Mayday for VAs?
Speaker: Hellen Beveridge
Hugely informative session from the GDPR expert who offers real solutions to the practical problems facing data management professionals this year – much applause for the magnificent Hellen Beveridge of Circ Data.

Read more about Hellen's work here.

Addtional info available from the Information Commissioner's Office (ICO) – their 12 point guide: https://ico.org.uk/media/1624219/preparing-for-the-gdpr-12-steps.pdf
Session 3: Go Grow Your VA Business
Speakers: Jane Cattermole (Bay Tree VA) Clair Grace (The Assistant Quarters) – deputising for Charlotte Wibberley of VIPVA) Rebecca Newenham (Get Ahead VA)
| | |
| --- | --- |
| | For new and established VAs, sales and significant business growth needs to be well planned – our thanks to the panel (Left to right) Jane Cattermole; and Claire Grace and Rebecca Newenham for their super suggestions. |
Session 4: Winning Awards – What happens next?
Speakers: John Palmer deputising for Michelle Smith (Value Added Business Solutions)
Interviewees:
Fiona Macpherson (Support 4 Success) VA of the Year for England 2017 (Right in picture, below)
Ruth Dyer (RDVA) UK Best Newcomer VA 2017 (Left in picture, below)
A recording of Michelle Smith's 'Winning Awards' presentation can be accessed here.

Full report of UK VA awards comments from the Chair, Panel of Judges can be seen here
UK VA Conference – UK VA Awards + other presentations
Our thanks to all the voters and record number of nominations for pa-assist Members Voice Awards 2017 – Category: Best VA Training Providers – Most Votes winner Amanda Johnson (VACT) following up on her 2016 MVA win – Congrats Amanda, now a two-times winner!

Amanda is a regular and popular speaker at events around the country, and has a widespread following to support that.

From the shortlist of six for this category, Amanda came through as the leader with the highest votes in a category that saw more than 3,500 cast.
Congrats to Carmen 

(

CP Business Support Services) for winning the #VACon18 Quiz – most correct answers and first out of the hat for the free prize draw – enjoy your bottle of bubbly (thanks to Veuve Clicquot).

This year's quiz had a focus on both the UK VA Awards and also the primary essentials for starting out with a business as a Virtual Assistant, and provided a number of clues as to what would be considered the minimum legal and insurance requirements.

We thank everyone for participating, and we also wish Carmen continuing success in her own business journey.
Delighted to welcome the support of Naomi Campbell of VA Velocity who joins our campaign launch of 

#

MyVACareer to highlight becoming a VA as a career choice to be agreat option for many people who are facing tough challenges in life. Much more info soon. Get ready to learn & be inspired by Naomi and other Virtual Assistants.

We hope to bring you mch more news and updates over the course of the coming months.

Our thanks to Naomi for sharing her journey.
UK VA Awards 2018: – Grand Final Announcements and Presentations
Following the session on "Winning Awards", attention turned to the most important business of the day – the UK VA Awards for 2018.
For more details of category Winners and Finalists, please also refer to this page.
Pictured: Winners, Gwen Backhouse (UK Outstanding VA 2018 pictured left) and Toks Adebanjo (UK Best Newcomer VA 2018, pictured right with John Palmer, Chair of Panel of Judges)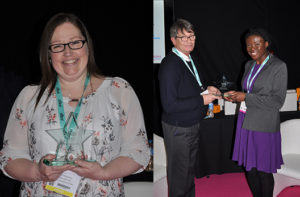 IAM Certificates presented to the 2018 UK VA Award Winners
Andrew Jardine pictured with Gwen Backhouse (UK Outstanding VA 2018 pictured left of Andrew) and Toks Adebanjo (UK Best Newcomer VA 2018, pictured right of Andrew), on presentation of complimentary IAM memberships.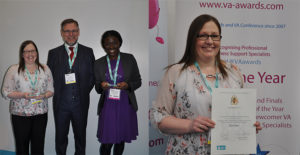 Session 5: Social Media Strategy
Speaker: Google Guru Google Digital Garage
Final session underway (pictured below)  – building a successful Social Media Strategy with Google Guru Patrick Cutliffe from Google Digital Garage – great insight and top tips, many thanks Patrick.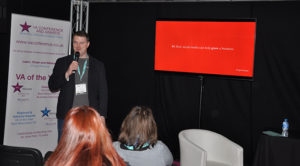 The UK VA Conference closed with the news that the event will be returning to Olympia with office* show in 2019.