On 2nd March 2017, in the year of the 10th Anniversary of the UK VA Conference and Awards, one of three market leading Virtual Assistants will be announced as the winner of the prestigious title, "Outstanding VA 2017".
The Panel of Judges have a tough job to carry out.
The three candidates are a multi-award winning trio that truly fly the flag for the Virtual Assistant profession, and their businesses across the UK and internationally.
Our candidates are (in alphabetical order):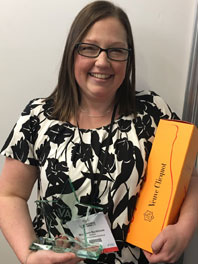 Gwen Backhouse – Curlew Secretarial Solutions, Cumbria, England
Founded in 2014, Gwen first entered for the Best Newcomer VA award in 2015, and won!
Since then, in 2016, Gwen has gone on to win the Regional title of VA of the Year for North-West England and VA of the Year for England, qualifying for her place as a finalist to be considered as Outstanding VA 2017.
Gwen says, "Winning Best VA Newcomer 2015, and the VA of the Year awards in 2016, has enabled me to create a successful media campaign (including media interviews). I have seen my client numbers more than double.  I have also been approached for advice by other VAs which has led me to collaborate with another local VA to set up the Cumbria VA Network with the aim of offering support to new and existing VAs around Cumbria."
Gwen's plans for 2017 include expanding further, engaging more associates, employing staff and moving offices to accommodate the expansion.
Take a look at her business web site: www.curlewsecretarial.co.uk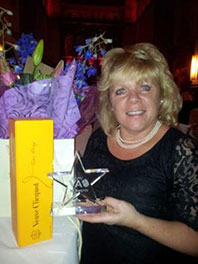 Heather Greig – VPA-NI, County Down, Northern Ireland
Founded in 2007, Heather celebrates 10 years as a successful VA business this year. Winner of VA of the Year for All-Ireland in 2014, Heather is making this Award journey to London for a second time, as she was also Outstanding VA Runner-Up in 2014.
With media coverage in newspapers and radio, Heather's Award success was recognised by the Lord Mayor of Ards Borough. Heather says, "I have grown in confidence as an Award Winning business owner; established links with International VAs; supported clients in the rest of the UK, Ireland, Belgium, and Spain; seen a 72% increase in web traffic; with an increase in enquiries and clients."
Heather has recently created a Facebook Group, 'VA Connect Northern Ireland',to help support Virtual Assistants based in Northern Ireland. This will offer support to existing VAs and also start-up VAs within the Northern Ireland region and will help them to 'Share, Support, Engage'."
Yes, Heather is back, and looking to go one better in this year's Outstanding VA Award!
You can find Heather's business web site here: www.vpa-ni.co.uk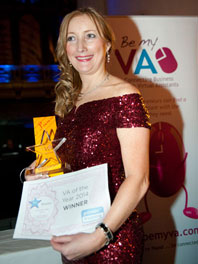 Michelle Smith – Value Add Business Solutions Ltd., Glasgow, Scotland
Founded in 2011, Michelle started her collection of Virtual Assistant awards by scooping VA of the Year for Scotland in 2014, and followed that up later that year, by winning UK Outstanding VA 2014.
Michelle says, "After my Award successes, I was kindly invited to speak at several events (including the Office* show in 2015) where I was able to promote the VA profession but it also allowed me the opportunity to highlight the strong ethics needed to be a VA."
Alongside, the increase in business, and a substantial increase in revenue, Michelle has expanded her skilled team, and also moved to larger premises.
Michelle has also been busy accumulating further business accolades, including being named as a Finalist for Glasgow Businesswoman of the Year 2015; and to sign off 2016 by adding the Institute of Certified Bookkeepers: LUCA Award for Large Practice of the Year, with the presentation by HRH Prince Michael of Kent (https://valueaddvirtual.co.uk/won-luca-award-large-practice-year )
UK VA Conference 2017
To appropriately recognise the occasion of the 10th anniversary of the VA Conference, this landmark timeline event will be held at Olympia, London on 2nd March 2017 as a special feature of the next VA Day at Office*2017.
As the sponsor, organiser and director of the UK VA Conference since 2014, BeMyVA.com's CEO, John Palmer says, "We wanted to make the 2017 event something particularly special to enable everyone to recognise the progress the Virtual Assistant profession has made in the last decade.
We must thank the magnificent support and encouragement of the Directors and Event Management Team of Mash Media, the new owners and event managers of Office*, in kindly offering to host our special event in the 10th anniversary year for the VA Conference.
Office* Show 2017
As the UK's leading event for EAs, PAs, VAs and Office Managers, under the new management of Mash Media, the Office* Show returns to Olympia, London on 1st and 2nd March 2017.
The Office* Show normally attracts audiences of up to 4,000 per annum, and is also co-location with International Confex and the Event Production Show (and in total attracting audiences of circa 20,000 visitors over the 2 days).
Mash Media's Partnerships & Content Director, Ingrid van der Weide says, "We recognise that the growth of the Virtual Assistant profession is making such positive progress at an exponential pace in the global business world.
We have also seen how the UK's VA Conference and the VA Awards have continued to evolve and progress – we welcome the opportunity to support and participate as host to the 10th Anniversary year event – and all as part of the hugely popular Office*2017's VA Day at Olympia, London (2nd March 2017)."