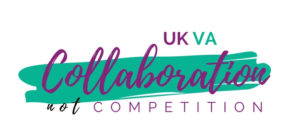 "Collaboration not competition" has been at the heart of the UK VA industry for many years – a quote coined (I believe) by Roz Bott in the VASG Skype chat.  It's something which I wholeheartedly subscribe to and want to support.  At its heart, it's about thinking about what is best for the industry as a whole and being generous of spirit when it comes to helping one another – whether that's sharing a VA event, pointing a newbie in the right direction, or simply accrediting stats properly in quotes.
If you need this pic in a different format, please let me know?
International VA Day – Friday 18th May 2018 
On International Virtual Assistants Day, Friday 18 May, we'd love for you to:
use the stickers, show us what you did;
post the logo (also attached here);
and use the hashtags #CollaborationNotCompetition #virtualassistant
Let's get it trending!
Caroline
Caroline Wylie