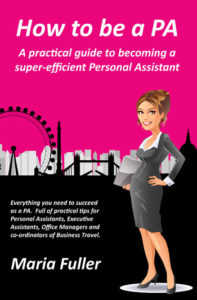 Hot off the press! A new book for the PA has been released today – perhaps it will become a nominated contender for this year's pa-assist.com Members Voice Awards?
The press release introduction says:
'How to be a PA' is a new book for PA's, EA's and Admins, now available on Amazon Europe.  Written and published by UK Executive Assistant, Maria Fuller, 'How to be a PA' is the only practical 'go to guide' for PA's, and tipped to become the market leading reference book, for career focused assistants.
'How to be a PA' is 266 pages of expert PA knowledge, practical hints, tips and guides.  Explaining the key elements of the PA role, and providing the knowledge on how to complete tasks successfully.  Chapter headings include: "Insider knowledge", "So – you want to be a PA?", "Choosing your Career Path", "Diary Management", "How to Schedule Meetings", "Business Networking", "Professional Associations", "An Introduction to Business Travel", and "The City of London for the Business Executive".
'How to be a PA' is the only book available for PA's as a 'how to' guide.  It's the book which equips readers with the skills and knowledge to do their job well.  Full of epic "top tips", assertive calls "for action", prompts to "add to your bible", whilst bursting with images, screen shots and expert knowledge. The book is a handy office reference guide for all business assistants, providing real office examples and scenarios, for readers to work through.
"I identified a huge gap in the market.  Many books are available which focus on 'soft skills' but nothing was available with the skills you actually need to do the job – the 'practical skills'.  It was that discovery which led me to write my book.  It's the book I wished I could have purchased, when I first started out as a PA." Maria Fuller, Author.
How to be a PA is now available on Amazon Europe, priced at £17.99.
About the author: Maria Fuller is a successful Executive Assistant, and is currently employed by global customer service giant, Teleperformance, as EA to the CEO UK and RSA.  Maria has enjoyed an accomplished career working for large multinationals, predominately in the financial and legal services sectors.  Maria regularly writes features for the Executive PA Magazine, has co-ordinated in excess of 5,000 business trips, and has managed corporate events around the world.
For more information please contact Maria Fuller: info@howtobeapa.co.uk