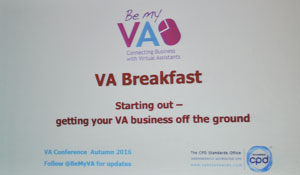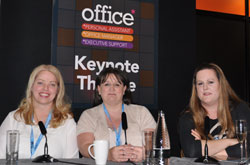 The popular morning's learning content included today's top tips from Award winning VA, Susan Moore (VA of the Year 2008), and this session will be of highest value to start-up VAs followed by an open mike Q & A session that tackled the essential elements, barriers and concerns of starting out as a VA.
The second day of Office* 2016 was once again designated as "VA Day".
BeMyVA.com were invited to host and launch the day with a sponsored VA Breakfast event – to get the day off to a flying start with a tasty menu of complimentary pastries, tea, coffee, orange juice, networking and learning!
The theme for 2016 was Starting out – get your VA business off the ground, and as the presentation commenced, it was quickly standing room only.
For the additional Q & A session, Susan was joined by award winning VAs Joanne Hawkins (Executive VPA, North of England VA of the Year 2014), and Jennie Bayliss (Office Wings Ltd – England's VA of the Year 2015)