Shining a light on the legal world's most inspirational support staff, the Legal Support Awards ceremony is attended and fully supported by legal industry leaders.  Our awards are unique because they are dedicated purely to legal support staff.
This year we are back at The Brewery London on the 25th February 2016, with new award categories, fantastic prizes up for grabs plus a superb panel of judges and keynote speakers from some of the largest and most successful law firms in the world.
Winning one of our awards is the ultimate recognition and is recognised throughout the legal industry. What better accolade could there be for your firm or to put on your CV?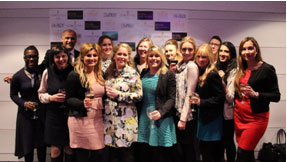 Open categories for 2016:
Legal PA of the Year
Mentor of the Year
Team Leader / Coordinator of the Year
Best Client Service
Rising Star
Administration Assistant of the Year
You can be nominated by a colleague, your boss, or why not nominate yourself! All you need to do is head over to our website – http://strictly-recruitment.co.uk/#/legal
What a year for our Legal PA of the Year 2015!
"Winning Strictly's Legal PA of the Year award for 2015 was a fantastic and enlightening experience.  In the first instance, I was thrilled just to be nominated!  It was humbling to know that the people I work with really do appreciate my hard work, commitment and dedication.  Winning the award has afforded me many wonderful new opportunities:  I have been invited to speak to students at South Essex college on the topic of "What makes a good legal secretary"; I was invited to participate in a documentary as part of a global initiative at a leading UK law firm to speak about the importance of PA roles; I have been asked to take a principal role in developing the strategy to streamline branding and to implement a new ground transportation service at my international firm.  However, most importantly, for me, I have been more involved in the coordination and recruitment process for our on-going Trainee Legal Secretary programme.  Mentoring and training young secretaries is very rewarding.  To top all of this, I continue to work for the most incredible team of lawyers who are encouraging and supportive.  Without a doubt, 2015 has been the best year for me professionally and I am very grateful to everyone who helped to make that happen.  Good luck to all the 2016 nominees!"
Kerry Smorthit, Ropes & Gray
Winner of last year's Legal PA of the Year 2015
Fantastic prizes this year from:    


*NOMINATIONS CLOSE ON 5TH FEBRUARY 2016* The finalists in each category and representatives from their firms will be invited to our awards ceremony taking place on February 25th 2016
If you would like to be a part of The Legal Support Awards or nominate, please head over to our website for more information http://strictly-recruitment.co.uk/#/legal
Sponsoring one of our awards categories is a great way to expand your professional network with leaders from Top UK and Global law firms.  If you are interested in sponsorship and networking opportunities please get in touch. Hayley Martin – hayley@strictly-recruitment.com : 0207 628 4000