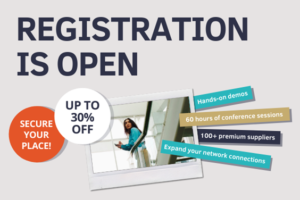 We're excited to announce that registration for The PA Show 2021 is live!
The PA Show is the largest gathering of Executive Support Professionals in the UK, bringing together 5,500+ of you under one roof on 12-13 May 2021, at ExCeL, London. There are two registration options for any experience and budget level.
Option 1. Register for the presentations and exhibition FOR FREE HERE>>
Option 2. Register for your full conference pass at our lowest possible price of £129, that's 30% OFF the full delegate rate >>
Whether you're a PA, Executive Assistant, Office Manager, Virtual Assistant or involved in office support, The PA Show offers you the chance to enhance your skills and knowledge, grow your network of contacts, and source premium suppliers to support you in your role.
Register today for our jam-packed 10th Anniversary Edition where you will:
Gain valuable insight through 60 hours of world class conference sessions
Source products and services from 100+ handpicked global suppliers
Get practical training and hands-on demos at the Presentation Hub
Build your industry connections both onsite and via the official PA Show networking app.
We're looking forward to seeing you at The PA Show, 12-13 May 2021.
The Team at The PA Show