UK VA Awards – South East England 2017
In the final few days of October 2017, we see the completion of England's Regional Finals, with the South East VA Awards being announced and presented at The Ask Abbie Show with our hosts, The PA Club, Friday 27th Oct 2017. We send our thanks to The PA Club team for all of their support and assistance towards staging the London and South East VA awards in recent years.
VA of the Year – South East of England 2017:
Winner: Lucy Tipler – Your Loyal VA – www.yourloyalva.com
Runner Up:Becky Bosman –Shining Star VA Services  – http://shiningstarvaservices.co.uk/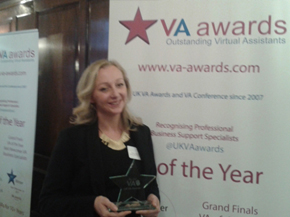 Winner South East 2017 –

Lucy Tipler of Your Loyal VA

2017 South East England Runner up

Becky Bosman of Shining Star VA Services
Winner Lucy Tipler has certainly made 2017 an Award winning year. Before this most recent success of winning VA of the Year South East England, Lucy finished as Best Newcomer VA Runner Up at the UK VA Conference in March 2017.
Based in Kent, Lucy started her business in 2015. Lucy brands her business as "smart support at the click of a button". Lucy has extensive Executive PA experience, including 13 years at Board Level – all supported by Executive PA training with Reed. More recently Lucy's business has a focus on providing a range of digital services.
Lucy now automatically qualifies for a place at England's VA of the Year Final 2017.
Becky Bosman of Shining Star VA Services, started the business in 2016 and is now continuing to expand her team of associates to serve an increasing number of clients.