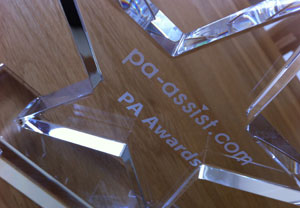 Of course, winning or entering for an Award can do much for the self confidence, and may help a winner's or participant's progress towards a career move at some stage in the future.
With the PA profession still 'taking in' Today's PA Conference announcement for their launch Awards in 2016 and the high '£' value first prize (the much Tweeted #10kPA), we understand that there are plans for more PA Awards to be launched for 2016.
Jennifer Corcoran (recently appointed as EUMA's National PR Officer – congrats on that post, Jennifer), has recently provided an interesting insight of her own experience of being an Award Winner, in her LinkedIn posting titled, "PA Awards – Recognition of the PA Profession".
Will additional PA Awards help the profession? Arguably, if the quality and style can be maintained that appropriately supports and represents the profession, the answer should be 'yes'. For those that have already run PA Award programmes, and plan to do so in the future, it looks like the benchmark is in the process of being raised, and further innovation may well be required.
PA Award programmes supported by pa-assist.com?
Innovation? Watch this space! Announcements to follow.