September 26th and 27th, Sandown Park, Esher, Surrey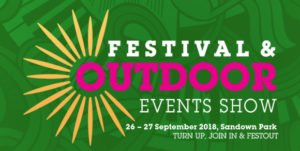 Festival and Outdoor Show announces stellar line up for event safety panels
Steve Blake from Storm4 Events is curating panel discussions and talks at the Festival and Outdoor Show which are tackling the tough issues effecting organisers right now, from drone usage to preparing a counter terrorism policy. The event has revealed a speaker line up featuring some of the UK's leading figures giving firsthand experience from the 2018 event season.
"In the modern festival landscape there are more factors and considerations for organisers to have a handle on than ever before. Many events in the UK grow from grass roots levels and are now attracting thousands of people. That's why we're putting together two days of speakers around the hot topics from this summer season, designed to give organisers a good understanding of the requirements and considerations for the safety of their audiences, helping them to ask the right questions and hire the right teams.
"Liability and risk is what keeps organisers up at night so each of our discussions is designed to give them core competences in risk management. We'll be touching on crowd psychology and how that affects audience behaviour and how to make dynamic risk assessments and communicate that rapidly around the required teams.
This year saw many public events and festivals bringing in counter terrorism plans for the first time. A panel at 2pm on Wednesday 26th September will highlight how to create a step by step plan to enable good decision making in the face of a major incident.
"Our speaker Garry Jones is one of the world's leading trainers around counter terrorism at events and his session will give live examples of how that has worked at events, and the insights he gives to both police and organisers in the field. From physical implementation to team training and having a robust plan, Garry will touch on ways in which the biggest events in the world to the smallest of gatherings can learn from each other in this huge topic.
Drones are another hot topic this summer with increasing numbers of public brining them to event sites without licences or permissions.
"Drones are a double edged sword for event organisers as they can be both a huge hazard and a great aid. Andrew McQuillan is presenting on Wednesday about best practice for drone usage and some real life case studies on how they can be applied in emergency situations to enable dynamic risk assessments. "
"Overall we're planning two days of talks to give organisers tools for next year's festival season and to increase their competencies around emerging topics which could effect every event organiser in the UK market. It's a couple of days not to miss."
Visitors can register for the show at www.festivalandoutdoorshow.co.uk. The conference sessions don't require pre-booking – visitors can just turn up on the day to as many, or as few sessions as they desire.