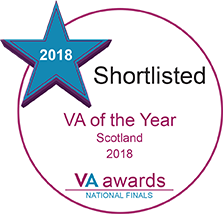 Scotland's finest Virtual Assistants gathered in Glasgow to greet the news of the crowning of the National Final winner and runner up for VA of the Year 2018.
With Caroline Wylie of SVA (Society of Virtual Assistants) and Louisa Stewart (Blue Ninja VA) the reigning VA of the Year for Scotland 2017and Michelle Smith of ValueAdd (Scotland and Outstanding VA of the Year 2014 and 2017) in attendance, this year's winners were certainly joining illustrious company.
Scotland VA of the Year 2018
Winner: Naomi Campbell of VA Velocity
Runner-up: Toks Adebanjo of TAVA Services
Naomi Campbell of VA Velocity takes the VA of the Year 2018 crown after being previously placed twice as VA of the Year runner up in both 2014 and 2017.
Naomi set up VA Velocity in 2012. Naomi was highlighted as 'one to watch' when scooping Runner-up in 2014. However, finishing as Runner-up in 2017 was probably the final momentum required for Naomi to push on and develop her business model further, beyond the boundaries that her business had settled into.
John Palmer, Chair of the Panel of Judges said, "We can't say 'third time lucky', as the feedback from the Panel specifically commented on how much Naomi had worked on developing her business since being placed as Runner-up last year. Naomi's determination to succeed has been a key component towards her continued successes in 2018. Well done Naomi, well deserved, all that hard work has paid off."
Toks Adebanjo of TAVA Services, received her Runner-up award with a huge smile, acknowledging Naomi's previous achievements and continued development, Toks said, "very happy to be Runner-up to Naomi – I am happy with my progress and my business over the last 12 months."
What a 12 months it ahs been. Toks picked up the UK Best Newcomer award at the UK VA Conference earlier in 2018 – highlighting the significant achievement of finishing Runner Up in the 'senior' category of VA of the Year.
Naomi now automatically qualifies as a finalist for UK Outstanding VA 2019, at the UK VA Conference on 27th February 2019 at Olympia, London.