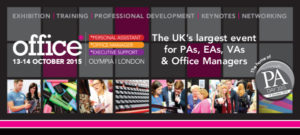 Virtual Assistant Day | 14 October | office* 2015
On 14 October 2015
Join Us For The VA Day Breakfast
What do VA's need to do to
survive and thrive?
08:30 | VA Day Breakfast | sponsored by BeMyVA

John Palmer, CEO, BeMyVA.com will introduce and host an interactive session with three Award winning Virtual Assistants – providing an insight of a selection of top tips of 'How to survive and thrive as a VA in 2016'.
Panel include:

Amanda Johnson – VA of the Year, Runner-Up, South of England 2014
Amanda Johnson of The Virtual Assistant Coaching and Training Company, a premier provider of VA training and mentoring, is passionate about "Creating Exceptional VA's" and she does this by inspiring, challenging and supporting them to have their own successful VA business. Amanda launched her VA career on her retirement from the Royal Navy, and now runs a team of Virtual Assistants as part of her VA business Your Executive Secretary Limited, where she is still a VA to some clients as she believes it is critical to understand the grass root elements of the VA industry. Amanda regularly speaks on the subjects of setting up and launching a VA business.

Andrea Osborne – VA of the Year, Winner, London 2014
Andrea Osborne. Andrea is a born organiser and loves it. In her first job in London, she streamlined her After Sales and Tuning Manager role so efficiently that the job went from 40+ hours a week to two afternoons a week. It's great to be a born organiser but not so great when you organise yourself out of your own job! After reading an article about concierge companies in the USA, she realised she had been doing this for years. After a decade in IT as a consultant project manager, Andrea decided she preferred human beings to PCs and set up cushion the impact ltd and hasn't looked back since.
Joanne Hawkins – VA of the Year, Winner, North West England 2014
Joanne founded Executive VPA in January 2012 when she had a desire to work with small to medium businesses who wanted to achieve their own unique 'Life Blend' as did she. The centre of Joanne's ethos is ensuring she and her clients remember their 'why', this has enabled the business and her brand to grow successfully in the past few years. Joanne is now looking forward to working with and mentoring other VAs' through her online program and VA Conference which is held in the North West of England.
If you have a question for the panel, please send an e-mail to office15@bemyva.com by 10th October 2015.
Join this FREE session by contacting Pam at pjohns@divcom.co.uk with your badge number – and enjoy a complimentary breakfast with BeMyVA!