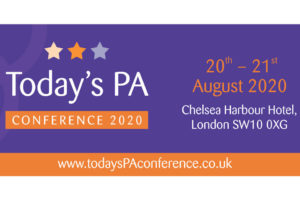 The Today's PA Conference 2020 has now launched and Early Bird tickets are available!
The Conference will take place on 20th – 21st August 2020 in Chelsea, London. This educational event gathers together over a hundred delegates each year and offers high quality educational content as well as outstanding networking opportunities.
For more details and booking please visit www.todaysPAconference.co.uk
First Day – 20th August – Being Assertive & Dealing with Difficult People
The first day of the conference is dedicated to assertiveness. This multi award-winning course will build your self-esteem and sense of self-worth so you begin to see yourself as not just the assistant to an important person but as an extension of their management style and vision.
Major elements covered on this day include:
Defining your role
Managing your manager
Being more assertive
Dealing with difficult people
Saying 'No' without feeling guilty
Managing your time and stress
Second Day – 21st August – Conference Day
11 amazing speakers and more to join. Topics covered include:
Why You are the Best Person You Have Met
Health Hacks for Busy PAs: Managing Your Stress, Mastering Your Energy and Focus
Empowering PA Excellence
What Do Leaders Look for in Their PAs?
PA Networks – Benefits and Challenges
15 Tips on Handling Interruptions
How PAs and Managers Work Together
And Much More
For more details and booking please visit www.todaysPAconference.co.uk