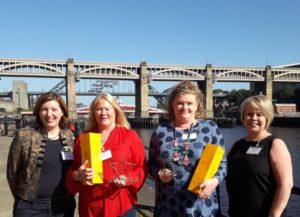 The Northern VA Collaboration in Newcastle, event once again hosted the North East England VA of the Year 2019, with Michelle Poole of Virtual Hand announced as the 2019 England regional winner. Michelle has been in business as a Virtual Assistant since 2011 and has won multiple business awards and accolades previously, but this 'Winner' title for the very first time!
Runner up for North East England VA of the Year 2019 is Michelle Stead of SRM Virtual Admin Services, having only started in business in January 2018, she was overjoyed with her significant achievement in such a short space of time in business!
On a super September sunny day at the Copthorne Hotel down by the famous landmark Quayside in Newcastle, pictured above (left to right): Caroline Wylie (Panel of Judges), Michelle Poole, Michelle Stead, Angela Dawson (Event Organiser and member of Panel of Judges)
Michelle now automatically qualifies for England VA of the Year Final at The Business Show in London at ExCeL on 28th November 2019, the announcements and presentations will be part of the largest Business Expo in Europe with circa 25,000 visitors over 2 days.