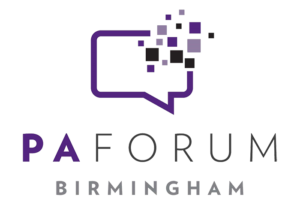 Celebrating it's two year bithday, the Birmingham PA Forum is looking ahead to 2019 and adding further innovations to their portfolio of activities, after the successful launch in 2018 of the Birmingham PA Awards.
The Birmingham PA Forum has announced their inaugural Learning and Development Conference at Unique Venues Birmingham, (formally The Rep Theatre), on Wednesday 6th February 2019.
The event will be tailored towards Personal, Executive and Virtual Assistants as well as Office Managers and all staff within support roles across the whole local region.
The Conference
Further to a survey to the Forum's members this day has been built around all the feedback  from their members.
During the day there will be 2 keynote, motivational and educational speakers:
Lara Morgan – Entrepreneur and regular commentator on the BBC and Sky News current affairs
Mandy Hickson  – Second woman to fly the Tornado GR4 operationally and, since soaring on from the RAF, Mandy now draws on her experiences of strategic decision-making, leadership under pressure and communication to inspire others. Her charisma and practical takeaways both engage and train audiences.
There will also be a panel discussion about the "ever changing role of a PA" hearing from and putting your questions to industry experts, representation bodies and media, confirmed on the panel is Elizabeth Wakeling from Institute of Management Assistance, Lucy Brazier of Executive Secretary Magazine, Andrew Jardine of Institute of Administrative Management, Jayne Forgham – Personal Assistant at PwC and Matthew Hammond – Midlands Regional Chairman PwC.
There will be plenty of networking opportunities including a team building activity in the afternoon and a selection of seminars that you can choose 2 of 6 to attend in the afternoon.
These will be supported by a number of suppliers on the day and the delegate's lunch and refreshments are inclusive.
There are some great 'Early Bird' and 'Group' discounts available and there are choices to attend for half day AM, half day PM or full day, the choice is all yours!
Click here for details of booking: https://birminghampaforum.co.uk/paconference-2019/

Birmingham PA Awards 2019
The Conference will be announcing the launch of Birmingham PA Awards 2019 and telling you all about how you can enter as well as hearing from the winners of the inaugural Birmingham PA Awards 2018.
And there is more … new PA Network announced …
Breaking News – more details to follow – look out for further announcements for the launch event of the Coventry and Warwickshire PA Forum. Contact Daniel Skermer Daniel.skermer@birminghampaforum.co.uk for more details.