Peterborough PA Network + BeMyVA.com VA Awards, East of England Region
Monday 22nd September 2014 – an event hosted by Peterborough PA network, organised by Bethany Fovargue, supported by Jan Bradshaw of Hays Recruitment and by the Park Inn Peterborough.
With a change to the schedule for the afternoon, after the initial networking and scrumptious food, BeMyVA's CEO John Palmer interviewed Marion Lowrence from the PA Hub (Leeds) about their experience in moving from being a PA in full time employment to becoming a self employed Virtual Assistant.
With further interesting sessions from Jan Bradshaw and Bethany Fovargue in building your own brand business development and tips for best practices when using social media to promote your own brand.
The event moved on to the most serious matters of the day – first up – the free prize draw!
The prize: a bottle of Veuve Clicquot Champagne – winner Salina West of PECT
John then announced the winners for the VA of the Year, East of England Region – as follows:
Runner-up: Lia Parkinson of Office on the Net
Winner: Jane Cattermole of Bay Tree VA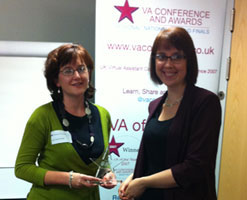 Our thanks to Bethany Fovarue of Peterbough PA Network, Hays Recruitment and
Pitman Training for their ongoing support and sponsorship