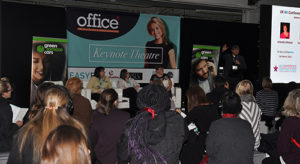 VA Breakfast session, VA Day 2018 – pictured Expert Panel Joanne, Gwen and Amanda.
The PA Show 2019 (formerly Office* Show) will once again play host to the UK VA Conference at Olympia on 'VA Day', 27th February 2019.
For the seventh year, VA Day will be kick-started by the popular free breakfast session starting at 8:30am. With the sponsor support of the UK VA Awards team, the VA Breakfast session has grown exponentially over the years and last year reached pre-bookings of 165 for the 'sold out' session – it is always a very popular session that becomes fully booked in advance.
This year business thought leader Lina Bourdon, Chair of the Federation of Small Business (FSB) Board for Diversity Policy, champion of 'Women in Enterprise' initiatives, and advisor to government, will be interviewing successful Virtual Assistants who made the career change and became a Virtual Assistant because of the influencing factors of events in their life – be that family, health, or other reasons and circumstances.
John Palmer, CEO of the UK VA Conference has said "Our own business has regularly worked with charity, voluntary and professional organisations to promote their case and raise funds and/or awareness.
For the VA, we now campaign for the Virtual Assistant profession to be more widely and readily recognised as a valuable resource for businesses of all sizes.
We also see the world of the VA reaching out to areas requiring regeneration and employment.
Becoming a Virtual Assistant and working remotely can be an introduction to a whole new income stream, particularly for those that may have limited access to transport; be restricted by location; or have personal circumstances – such as health, restricted mobility or family commitments – that prevents 'regular' employment being a practical or viable option.
Over the last 12 months, we have begun a journey to promote our campaign #MyVACareer to support this ideology.
A campaign to highlight those Virtual Assistants that have been successful in making the VA work option successful whilst managing their own circumstances and challenges around their clients, tasks, and projects.
It can simply be about sharing knowledge and managing the VA client's expectations.
We must acknowledge and thank the courageous VAs who continue to volunteer to share their stories and provide an insight into what can be achieved, if you plan to make the structure of your VA business and your own support resources, work for you.
So, we are prompted to ask the question … "Can anyone start and grow a successful VA Business?"
If you want to hear some inspiring stories about making the leap from PA to VA, our VA Breakfast session continues to be free to attend, so please register for The PA Show and book to attend the VA Breakfast.
You will meet and network with a large number of inspirational VAs – we hope to see you there!
VA Breakfast 2019 #MyVACareer Panel is scheduled to include: Amanda Johnson – multi-award winning VA and VA Trainer (VACT); Catherine Gladwyn (Delegate VA) Five-Star Amazon Bestselling Author, "How to be a Virtual Assistant"; Felicity Webb (The Virtual Assistant UK) – multi-award winning VA including South East England VA of the Year 2018.
Profiles of all session speakers: https://www.vaconference.co.uk/speakers.html
How to attend UK VA Conference:
Full VA Day Agenda: www.vaconference.co.uk/agenda.html
To attend the UK VA Conference, first 'register now' – it is FREE with https://www.thepashow.com/ and then as a registered visitor, please select the sessions you wish to attend or save with a "full day pass".
Please note: with bookings to date, we expect to 'sell-out' all sessions, so don't miss out, please book your sessions as soon as possible!