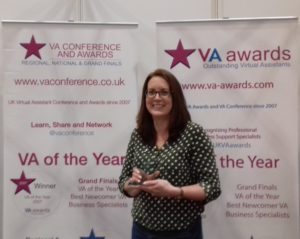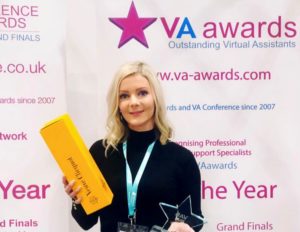 UK Outstanding VA 2020

Joanne Manville Virtual Assistance

UK Best Newcomer VA 2020

Jan Boa -The Online PA
UK VA Awards 2020 – The standards and benchmarks continue to rise year on year.
The UK VA Awards brought the Grand Finals to #VAcon20 with standards and benchmarks reaching new heights, the Panel of Judges had tough tasks in placing the talented group of candidates across all categories.
UK Outstanding VA 2020 – the finalists
Winner: Joanne Manville – Joanne Manville Virtual Assistance
Runner-up: Sarah Szekir-Papasavva – aptVA
Runner-up: Helen Burton and Jane Moore – We Are Queen Bee
John Palmer, Chair of the Panel of Judges said, "For Joanne to win for a second consecutive year is both brave and also tremendously impressive to see the passion to drive both personal development and business growth forward at the pace that Joanne has done in the last 12 months. There have been some incredibly tough candidates to beat over the last 2 years and Joanne has continued to impress our Panel of Judges across the range of questions we set.
Joanne and her business has won through once again – being the very first to win 2 years in a row since the UK VA Awards began in 2007 – congratulations, well done, and what next Joanne?"
UK Best Newcomer VA 2020 – the finalists
Winner: Jane Boa – TheOnline PA
Runner-up: Becky Adams – Your Productive PA
Runner-up: Kate Gannon – Kate Gannon Virtual Assistant
Runner-up: Laura Millett – Admin Lab
Runner-up: Magdalena Pawlik – MPawlik Virtual Assistant
Here are almost all of the 2020 Finalists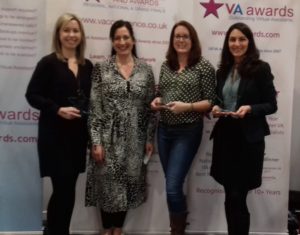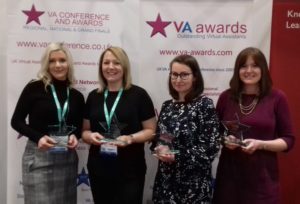 UK Outstanding VA 2020 Finalists

(L to R) Helen, Jane,. Joanne, Sarah

UK Best Newcomer VA 2020

(L to R) Jane, Becky, Magdalena, Kate

(Laura was unable to attend on the day)