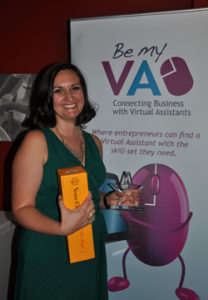 With the 
VA Awards final for England
 forthcoming (
14th October at Office*2015
), BeMyVA.com have been managing the final stages of the VA Awards across the England regions.
Last week saw the intrepid team head off to London Bridge station to pop-along the road to present the VA of the Year for South East England 2015.
With high quality entries for this year's Panel of Judges to consider, BeMyVA had great pleasure in announcing the Winner for 2015 to be Charlotte Wibberley of Blossom Executive Support –  
www.blossomsupport.co.uk
 – steadfastly seeing off the impressive challenge of 2014's VA of the Year for London, Andrea Osborne.
Multi-award winning Andrea Osborne of Cushion the Impact –www.cushiontheimpact.co.uk – is the 2015 Runner-Up for VA of the Year, South East of England.
An evening with fun packed activities and more than 10 fab prizes, all supported by the kind hospitality of our hosts, The PA Club and De Vere Venues, BeMyVA had the pleasure of presenting the South East of England VA Awards for 2015 at The Brigade.
Our thanks to the PA Club and the De Vere Venues team for a great event.The Brigade is a super venue near London Bridge station with an outstanding business ethos working with Beyond Food Foundation. This De Vere venue is a Social Enterprise that has a super story to tell – see here.
The remaining regions for VA of the Year England 2015, will be announced at the end of September in preparation for the final to held at office*2015 on 14th October in the "Experts Theatre" at 1:00pm