The second annual 2 day North West VA Conference 2016, organised by Executive VPA founder Joanne Hawkins and her team – hosted this year's VA Awards for North West England.
With another strong line-up of 2016 short-listed candidates, the Award winning VAs were announced on the second day of the local conference, as follows:
VA of the Year – North West of England 2016:
Winner: Gwen Backhouse – Curlew Secretarial Solutions – www.curlewsecretarial.co.uk
Runner Up: Jane Moore and Helen Burton of Queen Bee PA – www.queenbeepa.co.uk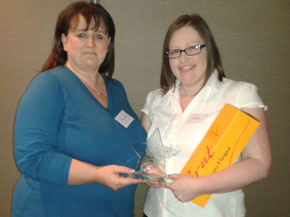 Joanne Hawkins with Gwen Backhouse VA of the Year North West
Runner Up North West 2016 – Queen Bee PA
Joanne Hawkins & Jane Moore & Helen Burton
Winner Gwen said, "I can't really believe it, this will give my business another big boost, and it is a great follow up to last year's Best Newcomer Award."
Gwen, who is based in Cumbria, set up her business n 2014, and was the last year's winner for Best Newcomer VA 2015. Gwen has put a lot of work into getting her business set up in an efficient and professional manner – and can easily demonstrate how she runs her business and works with her growing portfolio of clients – it's certainly a winning formula!
Runner up Queen Bee PA have been in business for just over 18 months, and the founders, Jane Moore and Helen Burton, are delighted to have scooped an Award at this early stage of developing their business.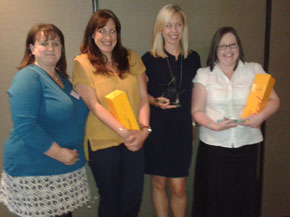 | | | |
| --- | --- | --- |
| Past + current winners for North West: Joanne Hawkins 2014; Pam Allen 2015; Gwen Backhouse 2016 | | Joanne Hawkins with 2016 Winners Jane Moore, Helen Burton & Gwen Backhouse |
Sue Chadwick and her growing business Chadwick's Admin www.chadwicksadmin.co.uk, a Runner-Up for Best Newcomer VA in 2015, was also a shortlisted finalist for the North West of England VA of the Year 2016.