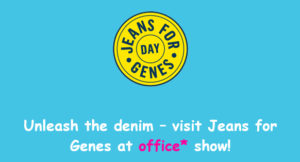 Olympia, London, 28th February to 1st March 2018 – office* is proud to introduce Jeans for Genes Day as its charity partner. The charity look forward to meeting you on stand H40, where you can sign-up for Jeans for Genes Day 2018 and receive a free denim manicure, plus enter their denim raffle and enjoy their denim photo booth.
Jeans for Genes Day is a one day fundraising campaign where office workers across the UK are encouraged to ditch their suits and wear jeans in exchange for a £2 donation. The monies raised will help provide vital support and care services for the 1 in 25 children in the UK affected by life-altering genetic disorder; this could include day-to-day support, equipment, nursing and patient support services, and events which bring together affected children and their families.
There are over 6,000 diagnosed genetic disorders. Some genetic disorders are apparent at birth while others are diagnosed at different stages throughout childhood, and sometimes into adulthood. 30,000 babies and children are newly diagnosed in the UK each year.
Laura Pattison, Campaign Director at Jeans for Genes Day said "We are delighted to partner with office* because of the fantastic support our fundraising appeal has from office professionals. PAs and office managers are some of the best fundraisers for Jeans for Genes Day so it makes perfect sense for us to partner with office*".
Jeans for Genes Day is on 
Friday 21 September 2018
, to organise a fundraising day in your office sign-up for your free workplace fundraising pack at 
www.jeansforgenes.org
.