UK Outstanding VA 2017
2nd March 2017
The 10th Anniversary Year VA Conference at Office Show, Olympia, London
As part of this year's 10th Anniversary celebrations, we re-introduced the category title of Outstanding VA – and a large number of outstanding Virtual Assistants were in the room for the announcements! Presentations were made by our keynote speaker Aimee Bateman, Careercake.com
UK Outstanding VA 2017 Winner:
Michelle Smith – Value Add Business Solutions Ltd., Glasgow, Scotland
UK Outstanding VA 2017 Runner-Ups
Heather Greig – VPA-NI, County Down, Northern Ireland
Gwen Backhouse – Curlew Secretarial Solutions, Cumbria, England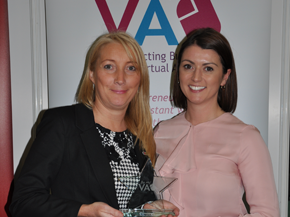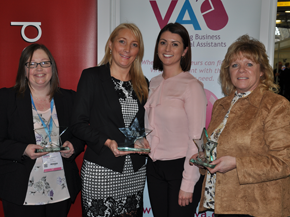 | | | |
| --- | --- | --- |
| Michelle Smith and Aimee Bateman | | Gwen,Michelle, Aimee and Heather |
Michelle Smith – Value Add Business Solutions Ltd., Glasgow, Scotland
Founded in 2011.  Web: www.valueaddvirtual.co.uk
With the increase in business, Michelle has expanded her skilled team, and has also moved to larger premises. Michelle has also been busy accumulating further business accolades.
Finalist for Glasgow Businesswoman of the Year 2015; and closing out 2016 by adding the Institute of Certified Bookkeepers: LUCA Award for Large Practice of the Year, with the presentation by HRH Prince Michael of Kent.
Michelle becomes the first VA to win the Outstanding VA Award twice.
Heather Greig – VPA-NI, County Down, Northern Ireland
Founded in 2007. Web: www.vpa-ni.co.uk
Heather celebrates 10 years as a successful VA business this year.
VA of the Year for All-Ireland in 2014, and Outstanding VA Runner-Up 2014.
Heather says, "I have grown in confidence as an Award Winning business owner; established links with International VAs; supported clients in the rest of the UK, Ireland, Belgium, and Spain; seen a 72% increase in web traffic; with an increase in enquiries and clients."
Heather has recently created a Facebook Group, 'VA Connect Northern Ireland',to help support Virtual Assistants based in Northern Ireland. This will offer support to existing VAs and also start-up VAs within the Northern Ireland region and will help them to 'Share, Support, Engage'."
Heather is forging new frontiers in her business environment and we expect to see more VAs emerging from this Region with Heather being a leading influencer in that development.
Gwen Backhouse – Curlew Secretarial Solutions, Cumbria, England
Founded in 2014. Web: www.curlewsecretarial.co.uk
Best Newcomer VA award in 2015.
VA of the Year for North-West England 2016
VA of the Year for England 2016
With her accolades in 2016, Gwen became the first VA to win Best Newcomer and VA of the Year in consecutive years.
Currently collaborating with another local VA to set up the Cumbria VA Network with the aim of offering support to new and existing VAs around Cumbria.
Gwen's plans for 2017 include expanding further, engaging more associates, employing staff and moving offices to accommodate the expansion.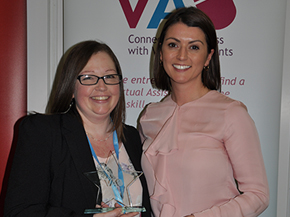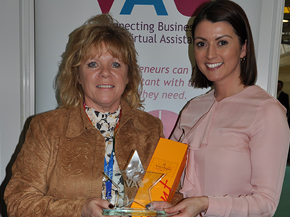 | | | |
| --- | --- | --- |
| Gwen and Aimee | | Heather and Aimee |
UK Best Newcomer VA 2017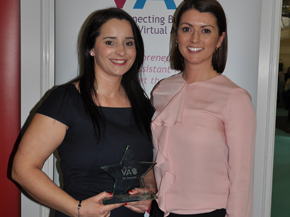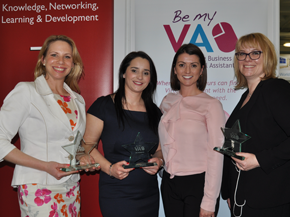 | | | |
| --- | --- | --- |
| Ruth and Aimee | | Lucy, Ruth, Aimee and Imogen |
UK Best Newcomer VA 2017 announcements and presentations took place on 2nd March 2017, as part of the 10th Anniversary celebrations of the UK VA Conference Awards programme, kindly supported and hosted by the annual Office* Show at Olympia, London.
The event's keynote speaker Aimee Bateman of Careercake,com, was on hand to present the coveted UK VA Awards, with announcements made by the Chair of the Panel of Judges, John Palmer of BeMyVA.com.
The winning entry Ruth Dyer trading as RDVA, of Northamptonshire, operates as a sole trader, founded in June 2016 and already impressing the Judges with her previous experience, professional achievements and presentation of her expanding business.
The Judges commented on the progress in such a short period of time and suggested that Ruth's continuing progress is "one to watch"!
Pipped at the post for the 2017 Best Newcomer VA Award were the equally impressive and accomplished achievements of Lucy Tipler (Your Loyal VA of Kent ), a sole trader since November 2015; and Imogen Allen (Umbrella Digital Media of Staffordshire), sole trader, founding her business in December 2015.
We will all look forward to seeing each of the Finalists continuing to develop their business, and perhaps we will get to meet them again as part of a forthcoming VA of the Year programme – they may yet be striving to replicate the recent successive year achievements of Gwen Backhouse, Curlew Secretarial Solutions (2015 and 2016)!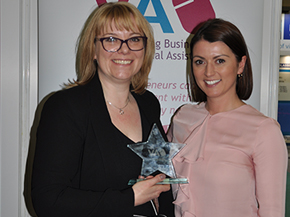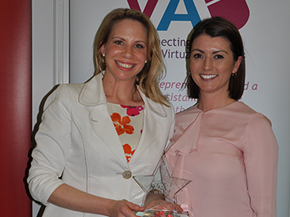 | | | |
| --- | --- | --- |
| Imogen and Aimee | | Lucy and Aimee |