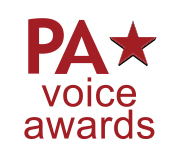 The final voting stage for our super new PA Voice Awards 2020 opens on Tuesday, 1st January 2020 and will close at 4:00pm.on Tuesday, 25th February 2020 at The PA Show 2020.
You will be able to cast your votes for your preferred favourites to set them on their way towards winning one of those most coveted PA Awards – all voted for, by you, our valued members and office professionals.
It really is the time and the place to have your say!
Since 1999 pa-assist.com have been working with our on-line PA community to listen and understand who our Members consider to be the best at what they do. In 2014 we launched our first Member's Voice Awards that quickly polled more than 7,500 votes in just three weeks, and our latest updated version for 2020 sees the first celebration of the PA Voice Awards 2020.
What happens next?
It's now time to vote, and your votes will be accepted up until 4pm on Tuesday, 25th February 2019.
Final categories are likely to be:
Best PA Specialist Recruitment Consultancies
Best PA Profession Magazines
Best PA Training Providers
Best Books for PAs
Best On-line Forums for PAs
Please cast your votes here:
https://www.surveymonkey.co.uk/r/PAVoice2020
(approx. 3 to 4 minutes to complete).


Champagne anyone?
For those that wish to enter their details (name etc.) at the end of the on-line nominations process, there will be a free prize draw for a bottle of Veuve Clicquot champagne – cheers!
(Please note: Contact details will not be made available to advertisers or sponsors – those details are for our prize draw purposes only). Standard Terms and Conditions apply.