The PA Voice Awards 2023 are here!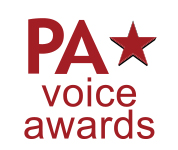 Our awards have been running since 2014 and have grown year-on-year, making them one of the most prestigious awards in support of the profession.
The PA Voice Awards 2023 is the perfect platform to celebrate the best of the best.
If you are an administrative professional, this is an opportunity to recognize the individuals, organizations, and companies that have had the biggest impact on your career and work. Whether it's a training provider who helped you improve your skills, or a recruitment consultant who placed you in your dream job, the PA Voice Awards 2023 gives you the chance to show your appreciation.
The nominations for the PA Voice Awards 2023 open on 1st March 2023 and run until midnight on 31st March 2023. During this period, you can nominate your favourites and preferred service providers who you believe are deserving of recognition. The final votes for the shortlists will be accepted from 1st April 2023 until  10th May 2023.
This year's categories will include:
Best PA Specialist Recruitment Consultancies
Best PA Training Providers
Best Travel Management Companies
Best Venue Finders
Best Learning and Development Events
Best Popular Tools
Best On-line Forums
The categories are designed to recognize the contributions of various individuals and organizations who have impacted the administrative field positively. From recruitment to training to travel management, the PA Voice Awards 2023 is a platform for acknowledging the best of the best.
As a member of the WorkSmartPA admin professional community, we provide the platform to make your voice heard. Your nominations and votes are essential in selecting the deserving winners of the PA Voice Awards 2023. By participating, you not only recognize the accomplishments of your support providers, but you also contribute to the ongoing improvement of the profession in executing their work with proven award winning professional services.
So, what are you waiting for?
Get involved in the PA Voice Awards 2023 and make your voice heard!
Together, let's celebrate excellence in the administrative profession and continue to push the boundaries of what's possible.
Nominate  your favourites who have made a positive impact on your career, and let them know how much you appreciate their contributions.
Please cast your nominations via the link below or mail us on support@worksmartpa.com with new category suggestions (normally a maximum of 4 to 5 minutes to complete):
https://www.surveymonkey.co.uk/r/PAVoice2023