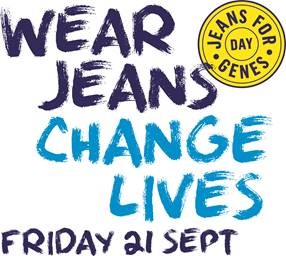 Jeans for Genes Day is a one day fundraising campaign where office workers across the UK are encouraged to ditch their suits and wear jeans in exchange for a £2 donation. The monies raised will help provide vital support and care services for the 1 in 25 children in the UK affected by life-altering genetic disorder; this could include day-to-day support, equipment, nursing and patient support services, and events which bring together affected children and their families.
There are over 6,000 diagnosed genetic disorders. Some genetic disorders are apparent at birth while others are diagnosed at different stages throughout childhood, and sometimes into adulthood. 30,000 babies and children are newly diagnosed in the UK each year.
Jeans for Genes Day is on 
Friday 21 September 2018
, to organise a fundraising day in your office sign-up for your free workplace fundraising pack at 
www.jeansforgenes.org
.