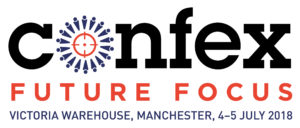 As event organisation forms an ever-increasing part of the executive support role, Confex Future Focus caters for those keen to develop their event skills further. Easily accessible for northern-based PAs, EAs and VAs, the exhibition will support its visitors in creating standout events for their organisation – whether that's meetings, conferences, incentive days or parties.
What does the day involve?
Debuting in Manchester this 4th & 5th July, the event will see Victoria Warehouse transformed into a treasure-trove of event inspiration. Venues and event suppliers are travelling from across the UK to showcase themselves to the much-loved northern audience. Visitors will leave ready to implement the latest creative ideas and technological innovations within their events.
Central to the show is the free-to-attend programme of educational seminars and debates. This thought-provoking and inspirational content is delivered by experienced event industry professionals. View the programme here.
Plus there are plenty of surprises lined up; this is an exhibition like no other. It will reflect the vibrancy and character of both the events industry, and the north itself.
The show is the forward focused spin-off to the well-renowned International Confex. Confex Future Focus speaker Holly Moore, who is founder and managing director of Make Events comments: "It is really indicative of Manchester's place in the Events Sector that Confex have decided to do a spin off event in our city. I am delighted it is not just to be a smaller version of the Confex we all know and love."
Confex's Event Director, Simon Farnfield, further expands on the choice to bring Confex to Manchester:  "The north, and north west of England in particular, is a hugely vibrant and innovative hub of the UK events industry, where both corporates and agencies are producing ground-breaking and spectacular events across the globe."
Get your complimentary visitor badge by registering here
See more on the official website here: https://www.confexfuturefocus.com/