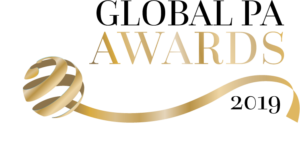 14th June: Global PA Association will announce the launch of our Global PA Awards. 
We are the only academically backed expert membership, training and recruitment association for the EA & PA profession – we constantly campaign for higher recognition and more diverse career paths for our Members.
Building on our training and development of EAs & PAs across the world, Global PA Association have personally met EAs & PAs from across the world from SE Asia, Australia, Middle East, Africa, Europe, UK & USA. We have been consistently impressed by the calibre and high standards of the profession and along with our vision of Academic Excellence and our University Partnership we wanted to reward hard working EAs & PAs across the globe.
Our Award Regions are the following:
Global PA Award Australia
Global PA Award SE Asia
Global PA Award Africa
Global PA Award Middle East
Global PA Award Europe
Global PA Award UK
Global PA Award USA
The overall Winner will become Global PA of the Year 2019
Further details to follow.
Link to web site:
http://www.globalpa-association.com/index.php/events/detail/14th-june-2019-launch-of-global-pa-awards