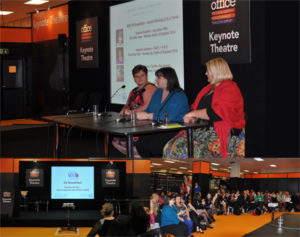 One of the 2015 Office* Show's best attended sessions was the VA Breakfast on VA Day, 14th October 2015, sponsored by BeMyVA.
With pre-registration reaching a record high for this session, more than 100 attendeees made the early morning effort on the day to get along to Olympia, for the Office Show's second day – more commonly known in recent years as VA Day.
The interest in the audience for learning something about a Virtual Assistant's business was at a high as the questions kept flowing for the Award winning panel for almost an hour.
Lots of interesting and at times amusing anecdotes were shared as examples of circumstances and learning points.
The VA Breakfast carried the theme for this year's VA Conference, to be held on 20th and 21st November, at Beaumont Extate, Windsor – see more details here: www.vaconference.co.uk.
Feedback for the session was outstanding, and BeMyVA sends their thanks to the Panel for their openess and willingness to share their extensive knowledege with the attendees.
BeMyVA.com's invited Award winning panel members were (from left to right):
Amanda Johnson – VA of the Year, Runner-Up, South of England 2014 – Owner of VACT
Andrea Osborne – VA of the Year, Winner, London 2014 – Founder of Cushion the Impact
Joanne Hawkins – VA of the Year, Winner, North West England 2014 – Owner of Executive VPA