The fourth Northern VA Collaboration event, organised by Angela Dawson (Admin Doctor www.theadmindoc.co.uk) and her team, once again hosted the announcements and presentations of the North East England 2017 VA of the Year, sponsored by BeMyVA.com.
The event on 20th May 2017, was held at the Copthorne Hotel in Newcastle, and the enthusiastic gathering of the region's leading VAs witnessed the following announcements:
North East England VA of the Year 2017
Winner: Fiona Macpherson, Support 4 Success www.support4success.co.uk
Runner-up: Sue Stott, SMS Business Support www.smsbusinesssupport.co.uk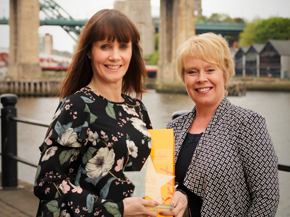 Following on from VA Award winning success in 2016 as VA of the Year Runner-up for the North East, Fiona has continued to work hard to reach the top of the podium for the region in 2017, whilst holding off strong opposition from multi-ward winning Sue Stott, (the North East England's VA of the Year for 2015).
Pictured above, Fiona with event host Angela Dawson at the Copthorne Hotel, Newcastle. (Unfortunately, this year's Runner-up Sue Stott was unable to attend the event on the day).
Bookings are already open for the next Northern VA Collaboration 2018 – see here for more details.