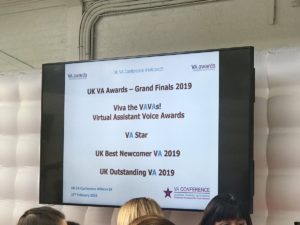 UK VA Conference 2021 will be on-line for 1st March to 4th March 2021 #VACon21 will be 4 sessions at 4pm each day Monday to Thursday
About this Event
UK VA Conference 2021 goes on-line for 1st March to 4th March 2021.
In consideration of feedback and the many demands on Virtual Assistants, their business, families and related commitments, the UK VA Conference 2021 will now be staged as an on-line event over 4 consecutive days from Monday 1st March 2021 to 4th March 2021, each day's session starting at 4pm, and ending at approx. 6pm.
Full details will be released this week, with more details from 4pm each day!
Get on-line for VA learning and many other top tips and tricks for your business!
Join us for 4 fab and fun sessions at 4pm for these days in March 2021:
Day 1 – Monday 1st March 2021 from 4pm
– Top tips and tricks 4 MS Teams
Multi-Award winning PAul Pennant of Todays PA will deliver an action packed session for Virtual Assistants!
Day 2 – Tuesday 2nd March 2021 from 4pm
– 4 Pillars of Corporate Social Responsibility
CSR can add good value to your business. A pioneer of a unique accreditation program, Richard Collins, CEO of CSR-A will share their thoughts on how applying the principles of CSR to your business will both improve your business performance and attract new clients.
– from 5pm UK VA Awards and more!
John Palmer, Chair of the Panel of Judges will announce our 2021 star performers!
– VA Stars
– UK Best Newcomer VA 2021
– UK Outstanding VA 2021
Day 3 – Wednesday 3rd March 2021 from 4pm
– Climb-online 4 business with Mark Wright
Back by popular demand!
Mark Wright, Winner of BBC Apprentice and serial entrepreneur returns to share his latest thoughts for business, marketing tips and securing clients.
Mark's fast paced delivery and opinions took the #VACon20 audience by storm.
Virtual Assistant's wanted to see him back:
"Amazing", "Fantastic", "Breathless", and "Wow" are snippets from last year's VA feedback!
We can't wait to see and learn from Mark's 2021 session!
Day 4 – Thursday 4th March 2021 from 4pm
– Virtual Assistants – your profession 4 the future
Caroline Wylie, co-founder, Society of Virtual Assistants will share highlights and insights to the annual VA Survey data & trends for Virtual Assistants.
Panel Session follows with VA thought leaders (more details soon)!
Topics for discussion are likely to include:
– Tips for starting out as a VA
– Pandemic strikes, no clients – what next?
– Do VAs have to think about Brexit and related changes?
– What are the impact of IR35 changes from 1st April 2021?
Chair: Gwen Backhouse – Multi-Award winning Virtual Assistant
Panel members:
Caroline Wylie – Co-founder Society of Virtual Assistants (SVA)
More to be announced.
Look out for special promotions – especially in launch week
– you guessed it, those details at 4pm Monday to Thursday!
Note: Each daily session is expected to finish at approx. 6pm.
Due to the nature of the pandemic and any potential short notice of changes required due to availability of speakers due to illness etc., government guidelines, regulations and other influencing factors, changes to the schedule and timings of the sessions may need to be subject to change or cancellation without prior notice. Full terms and conditions will apply and can be found at our web site: https://www.vaconference.co.uk