It may appear to be something akin to 'groundhog day' for the South East Region, but in a repeat of 2017, we had the same Finalists to battle out top spot once again, Namely Joanne Manville and Emma Conway-Hyde.
Chair of the Panel of Judges, John Palmer announced the following result
VA of the Year – South West of England 2018:
Winner: Joanne Manville – Joanne Manville Virtual Assistance – joannemanville.co.uk
Runner Up: Emma Conway-Hyde – The Umbrella Tree – www.theumbrellatree.co.uk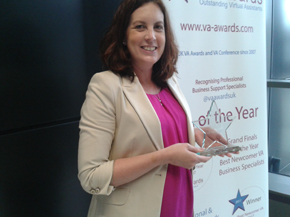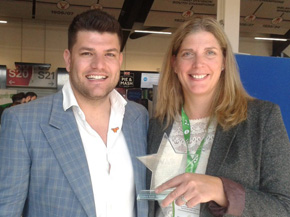 | | | |
| --- | --- | --- |
| Winner South West 2018 – Joanne Manville of Joanne Manville Virtual Assistance – repeating her success in this category for 2017 | | South West 2018 Runner-up Emma Conway-Hyde pictured at BSSW event with BBC Apprentice 2014 Winner Mark Wright of Climb Online |
Joanne Manville is now accumulating quite a collection of UK VA Awards! From starting her journey as UK Best Newcomer VA 2016 Runner-up, Joanne has progressed to scooping the VA of the Year for the South West Awards in consecutive years, 2017 and 2018, and automatically qualifies for the VA of the Year England final in November.
Starting the business in October 2015, Joanne is a fine example of what can be achieved as a VA business in quite a short period of time, having also reached finals in other prominent business awards. Joanne keeps her business on track by regularly gathering feedback from her clients and topping up her skill-set and knowledge base with a wide range of CPD activities and investment in training.
Unfortunately, Joanne was unable to attend the announcements due to ill health, but we do hope to see her at the England VA of the Year 2018 National Final.
Emma Conway-Hyde was quick to generously congratulate her category winner Joanne on her repeat achievement, and plans to consider entering more Awards with further success in the future.
Based in Dorset Emma has over 20 years of experience as an administrator and PA in both the public and private sectors. Emma's services include PA Support to Coaches, Speakers, Trainers and small business owners along with social media support, email marketing and event and project coordination.
The UK VA Awards would like to thank the hosts Business Showcase South West, for staging another super Expo at Ashton Gate, Bristol.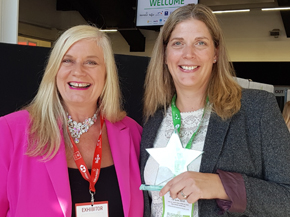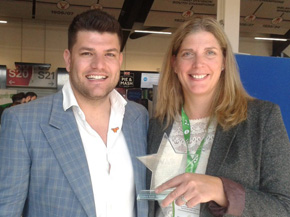 Emma also received notable congratulations from Alison Edgar alisonedgar.com
and Business Show South West Exhibition Host and Founder Jamie Breese www.businessshowcasesouthwest.com