The Finalists for the UK VA Awards 2022 have been announced today, ahead of the Gala Dinner and VA Conference on 30th September 2022 in Bournemouth.
Awards and event organiser, Amanda Johnson, said,
We are delighted to announce the finalists for the UK VA Awards 2022. 
Congratulations to all of our finalists and thank you to those who took the time to enter this year.
We had record numbers of entrants this year and some amazing entries. I am proud of everyone!"
The winners of each award will be revealed at the UK VA Conference Gala Dinner on 30 Sep 22.
You can book your ticket to the Conference and Awards here or just an Awards Only ticket by clicking here.
If you have any questions about the UK VA Awards then please email amanda@ukvaawards.co.uk
John Palmer MA C.Dir, Chair of the Panel of Judges, said,
"Hugely impressive group of shortlisted candidates, providing sound evidence of professional standards and diverse range of skillsets.
Congratulations, best wishes and good luck to all of the finalists.
Much thanks to all of the 2022 Judges and their valued assessments, namely (in first name alphabetical order):
Caroline Wylie, Gwen Backhouse FInstAM, Jane Cattermole, Joanne Hawkins, 
Joanne Manville, Michelle Smith, and  Rebecca Newenham"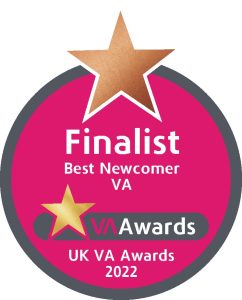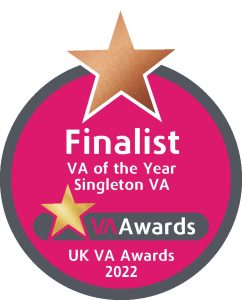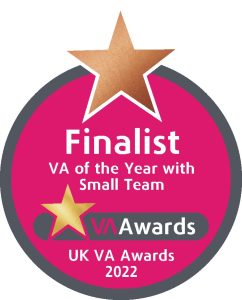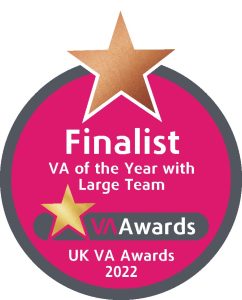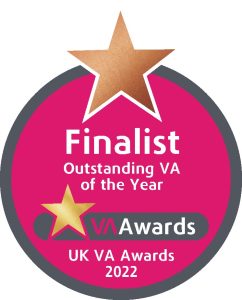 A full list of all of the finalists can be seen here: https://vaconference.co.uk/2022-finalists/
Award Category: Best Newcomer (less than 18 months in business as at 31 Jul 22)
| | |
| --- | --- |
| Ailene Young | Aycan Virtual |
| Clair Abrey | Sterling Virtual Assistant Services |
| Emilie Ashwood | Ashwood VA |
| Jen Read | Sunflower Virtual Assistant |
| Sarah Cook | Smart Cookie Virtual Assistant |
Award Category: Singleton VA
| | |
| --- | --- |
| Kate Gannon | Kate Gannon VA Services |
| Sarah Szekir-Papasavva | Apt Virtual Assistance |
| Megan Chapman | The Savvy VA |
Award Category: VA of the Year – Small Team (5 or less team members)
| | |
| --- | --- |
| | |
| Anna Bunch | Psych VA Limited |
| Emma Mulligan | Emma Mulligan Business Administration Services |
| Georgina Merckel | The Organised Personal Assistant |
| Katie Stone | Katie Stone PA |
| Natalie Andrews | NA Business Services |
Award Category: VA of the Year – Large Team (6 or more team members)
| | |
| --- | --- |
| Amy Russell | Crescent Business Support Ltd |
| Caroline Marshall | Upsource |
| Kathy Soulsby | Personally Virtual Limited |
Award Category: Outstanding VA of the Year  2022
| | |
| --- | --- |
| Amy Russell | Crescent Business Support Limited |
| Jen Workman | Business Owl |
| Sarah Szekir-Papasavva | Apt Virtual Assistance |