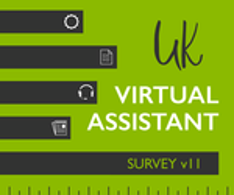 Caroline Wylie, co-founder of the Society of Virtual Assistants, is in the process of collecting data for the VA profession by organising an extensive annual survey.
Caroline says, "It's very rare we ask for favours, but we need your help sharing WIDE and LOUD!
SVA doesn't charge for ongoing membership, or for compiling the approved trainers info, or even for the advice we freely share.  Every year we collect info from UK based VAs and it's a massive undertaking, which actually costs us money to do.  But we feel it's important to have robust data on the industry to shape how we best service it.
We really need everyone's help in getting to 400 VAs this year – please could you share with your networks?"
"We've been told it takes an average of 10 minutes to complete, which isn't a lot to ask for in return for all the hours we spend on running SVA – time to give something back!"
The link to the survey is here: https://www.surveymonkey.co.uk/r/FRJXW8V