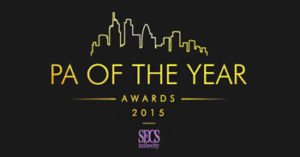 PA of the Year Awards announces their 2015 winners
Sheila Lyburn from Peter Vardy Ltd was announced as winner of the PA of the Year Awards 2015, hosted by SecsintheCity, the UK's #1 job site for PAs and Executive Assistants.
The announcement was made at a prestigious Awards ceremony held at The Ivy Restaurant on Thursday 12th November.
The winners of the PA of the Year Awards 2015 are:
PA of the Year – Sheila Lyburn, Peter Vardy Ltd
Social Media PA of the Year – Helen Rees, Marwell Wildlife
Legal PA of the Year – Jules Clark, Eversheds LLP
Sheila Lyburn is PA to the CEO at Peter Vardy Ltd, a leading, family owned Scottish car dealership based in Glasgow.
Sheila said: "I am absolutely thrilled to have won SecsintheCity's PA of the Year Award, 2015.  I was delighted when my boss, Peter Vardy, announced that he wanted to put me forward for the award as a result of my dedication, enthusiasm and commitment to my role. "
"PAs don't always get the recognition they deserve as much of their work is unseen and unheralded.  It is fantastic that these awards showcase our talents and I would strongly advise any PA to put themselves forward when this comes around again next year."
Along with her PA of the Year 2015 title, Sheila will also enjoy a stay in a track facing suite at Brooklands Hotel Surrey, including dinner and spa treatments.
The Awards, sponsored by Tay Associates, were established 4 years ago to champion the professionalism of PAs and acknowledge their contribution to the organisations they work for.
Emily Penny, Head of Sales at SecsintheCity, said:
"This year the calibre of finalists was exceptionally high, with PAs from ITV, DLA Piper, Barclays and UBM nominated. We look forward to following our winners continued success in the future."