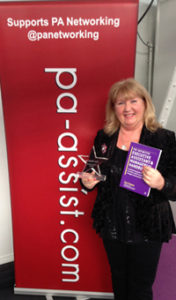 We are pleased to announce that award winning and best selling author Sue France will be joining us on the PA-Assist.com stand 527 at Office*2016 for book signings on 11 May at 14:00 to 15:00 and also on 12 May at 12 noon to 13:00.
Very kindly, Sue will be offering her books at a discounted price of £12.00 and Sue will be delighted to sign them for you. If you have already bought one of her books and would like it signing then please bring it with you
If you would like to see Sue speak, she is presenting at Office*2016 at 10.45 on 12 May on "The neuroscience of resilience."  Sue will help you understand how your brain works so you can take control of your emotions and think calmly and respond skillfully to situations that all Assistants find themselves in. We all have to face challenges at some time and change is a constant  so this session will enable you to be intelligently resilient and be able to cope with whatever life and work throws at you.
Following the first 2 best selling handbooks for Assistants. Sue's 3rd edition of The Definitive Personal Assistant & Secretarial Handbook (published August 2015) now contains a new chapter on "Neuroscience: how to maximise your brain for excellence" as well as tips and techniques interspersed throughout the book.
Sue's second best-selling book "The Definitive Executive Assistant & Managerial Handbook" was voted as pa-assist.com's 2015 Award winner for "The Best Book for a PA"
Both of Sue's books were nominated and strongly supported by pa-assist.com's 12,500 on-line PA membership for their 2015 Member's Voice Awards.
John Palmer of pa-ssist.com said, "Sue's books continually prove to be incredibly popular amongst the PAs and office professional communities.  In the first year of this particular Award category, that support was certainly reflected in our member's opportunity to feedback via the pa-assist nomination and voting process for the Member's Voice Awards 2015."