Major new trade show for the South West's event industry:
A major new trade show for the South West's vibrant events industry is to be held at 'We The Curious' in central Bristol on Wednesday 30th January 2019.
Called 'MEET South West', the event is the first of its kind to provide a showcase for the South West's thriving Meetings, Incentives, Conferences and Events (MICE) industry bringing together professional buyers, planners, agencies, venues and suppliers from across the region.
As well as a curated exhibition the event will also feature industry-lead workshops and presentations, networking opportunities and drinks reception with entertainment.
The event is supported by Destination Bristol, Visit Bath and VisitWiltshire together with the wider business community from across the region.
Kathryn Davis, Head of Tourism, Destination Bristol says: "We are thrilled to welcome the first MEET South West event to Bristol. As the regional capital, and one of the UK's most important business event destinations, it is an honour to be able to welcome a high calibre of buyers, suppliers and venues and work in partnership to deliver an outstanding programme. Conferences and business events are worth an estimated £260m to the city and so it is of critical importance that we continue to develop new business for the region".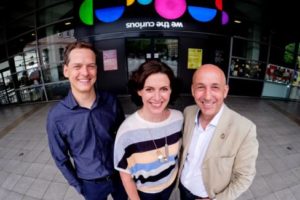 Left to right: Thomas Heiser, Paola Davis, Franco de la Croix-Vaubois. Photo by Jon Craig
Announcing the show, Co-founder Franco de la Croix-Vaubois, said: "MEET South West has been organised in direct response to requests from many in the industry to showcase the breadth and energy of the South West's event ecosystem. Our
show will provide a dedicated platform for venues, suppliers and event planners to make new business connections and deliver even better events".
MEET South West is produced by a trio of local event professionals: Franco de la Croix-Vaubois, Founder of the Event Organisers Network (EON), EON-Bath Hub Manager and Managing Director of Frog Events; Thomas Heiser, Managing Director of Bristol-based Focal Point Event Management; and Paola Davis, Specialist Corporate Event Manager and the EON-Bristol Hub Manager.
For more information and to register your interest please visit: www.MEETSouthWest.co.uk; email hello@metsouthwest.co.uk.
Please follow us on social media:
Twitter: https://twitter.com/meetsouthwest   LinkedIn: https://www.linkedin.com/company/meet-south-west/