November 2015 has seen the VA Conference and Awards host the final elements of the 2015 VA Awards programme for the UK and Republic of Ireland.
Pictured here is Suzanne Dibble, legal expert of www.suzannedibble.com presenting the winner of Best Newcomer VA 2015 Gwen Backhouse of Curlew Secretarial Solutions.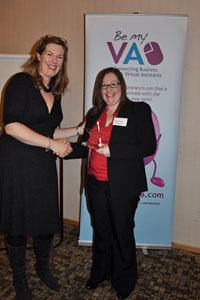 Our congratulations to Gwen, all the finalists, and award winners.
Sponsored by BeMyVA.com, the final Award Winners announced for 2015 are:
Best Newcomer VA 2015:
Gwen Backhouse – Curlew Secretarial Solutions – www.curlewsecretarial.co.uk
2015 Best Newcomer VA Runner Up Awards also went to:
Angela Clark – Valued Support Services – www.valuedsupportservices.co.uk
Lynsey Cowan – Elite VA – www.eliteva.co.uk
Rona Campbell – Cloudberry Services – www.cloudberryservices.com
Sue Chadwick – Chadwick's Admin – www.chadwicksadmin.co.uk
Pictured below are (from left to right): Angela Clark, Lynsey Cowan (unable to attend Conference), Rona Campbell, and Sue Chadwick

To re-cap our VA of the Year Award winners for 2015 are listed below:
VA of the Year 2015
VA of the Year for England – Winner:
Jennie Bayliss – Office Wings Ltd – www.officewings.co.uk
VA of the Year for England – Runner Up:
Pam Allen – PA Today – www.patodayuk.co.uk
Regional Winners and Runner Up VA Awards 2015 are:
South East – Winner: Charlotte Wibberley – Blossom Support – www.blossomsupport.co.uk
South East – Runner Up: Andrea Osborne – Cushion the Impact – www.cushiontheimpact.co.uk
South West – Winner: Donna Redshaw – Diamond PA Services – www.diamondpaservices.co.uk
South West – Runner Up: Rachel Guyat – More Than Just a PA – http://www.morethanjustapa.co.uk/
East – Winner: Jennie Bayliss – Office Wings – www.officewings.co.uk
East – Runner Up: Rachel Willmott – RHVA Virtual Assistant – http://www.rhva.co.uk
West – Winner: – Stephanie Middleton-Foster – Outhouse UK – www.outhouseuk.com
West – Runner Up: Joanna Pritchard – Professional PA Services – http://www.professional-pa-services.co.uk/
North East – Winner: Sue Stott – SMS Business Support – smsbusinesssupport.co.uk
North East – Runner Up: Kelly Cairns – KC Virtual Solutions – http://kcvirtualsolutions.co.uk
North West – Winner: Pam Allen – PA Today –  www.patodayuk.co.uk
North West – Runner Up: Jo Howlett – Admin Tones http://admintones.co.uk/
See more details of the 2015 winners here: http://www.vaconference.co.uk/previous-winners.html