Barbican appoints Jackie Boughton as Director of Commercial
London's Barbican Centre has appointed Jackie Boughton as Director of Commercial following nearly ten years as the venue's Head of Business Events, the last year of which has seen her working as acting Director of Commercial.
The Barbican's Chief Executive Officer, Claire Spencer, commented: "Jackie has been leading the way as Head of Business Events since she joined in May 2014.  During that time, she has focused on continuing the Barbican's commercial growth, while blending in its artistic offering to create memorable events for clients. Jackie has been an integral part of the Barbican's senior management team and this new role is very well-deserved."
Jackie has held a number of key roles in the business events and hospitality industries during a career that has included leading hotel chains, consultancies and venues.
In her new role, Jackie she will step up to permanently oversee key elements of the Barbican's commercial offering. This covers an exciting portfolio ranging from exploring new commercial partnerships as well as the development of new revenue streams for the Centre.
Commenting on her promotion Jackie said: "It is an honour to take the commercial lead for such a globally recognised venue and brand.  The Barbican continues to go from strength to strength, driven by the passion and hard work of so many individuals.  It is my privilege to work with such an inspiring team through our next phase of growth and success."
This news coincides with the Barbican launching an international recruitment campaign to find a new Director for Audiences, a Director for Buildings and Renewal, and a Director for Arts and Participation to join its leadership team. These three roles will be instrumental in helping the Centre transform its programming, its engagement with audiences, and its building.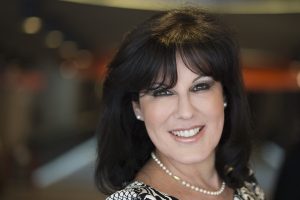 Jackie Broughton
About Barbican Business Events
The Barbican is one of the world's leading conference and international arts venues. Located in the City of London, it is capable of holding meetings from 10-2,000 delegates in its fully equipped concert hall, theatres, conference suites and boardrooms. Barbican Business Events brings together the venue's expertise in the arts and corporate meetings.
Built as part of London's Barbican development and officially opened in March 1982 by HM Queen Elizabeth, unlike many other venues, Barbican was specifically built with the dual purpose of holding conferences and arts events presenting a diverse range of art, music, theatre, dance, film and creative learning.
The Barbican's Business Events team contributes to the venue's future success. To make the most of the Barbican's rich culture and heritage, Barbican Business Events was created to bring together their expertise in three very different areas – the arts, creative learning and corporate business. This approach to corporate events is based on stronger, more in-depth partnerships with their artistic, creative learning and development teams in order to bring more creativity and rich content to events.
The Barbican provides a vibrant and inspiring venue for corporate events, conferences, meetings and entertainment. The venue is capable of holding meetings from 10-2,000 delegates in spaces including a concert hall, theatres, a boardroom and conference suites that can accommodate 10-170 delegates and can be adjusted using sound proofed sliding. As part of its wider investment strategy, the Barbican spent £2.2m on a significant refurbishment throughout the Centre in the summer of 2016 including its Frobisher rooms and Level 4. The focus of the Frobisher refurbishment is designed to create an even stronger connection between the Centre's main conference and meeting facilities and its arts spaces.
About the Barbican
A world-class arts and learning organisation, the Barbican pushes the boundaries of all major art forms including dance, film, music, theatre and visual arts. Its creative learning programme further underpins everything it does. Over a million people attend events annually, hundreds of artists and performers are featured, and more than 300 staff work onsite. The architecturally renowned centre opened in 1982 and comprises the Barbican Hall, the Barbican Theatre, The Pit, Cinemas 1, 2 and 3, Barbican Art Gallery, a second gallery The Curve, public spaces, a library, the Lakeside Terrace, a glasshouse conservatory, conference facilities and three restaurants. The City of London Corporation is the founder and principal funder of the Barbican Centre.