Loughborough University is creating a dedicated 4-star Elite Athlete Centre and Hotel (EAC) comprised of 44 bedrooms.  The facility will be run by Imago Venues – Loughborough University's dedicated hotel, conference and events provider.
It will provide a unique sports hotel that promotes rest, relaxation, and the pursuit of excellence. Set in the heart of Loughborough University's world-leading sports facilities, this inspiring high-performance environment offers aspirational space for athletes, businesses and fitness enthusiasts to be the best they can be.
With 20 specially designed altitude rooms, eight dedicated accessible bedrooms, a nutrition lounge, café and athletes' relaxation area and seminar space for 30, the inspirational facility is a European first. Packages will include access to the UK's leading coaches, sports scientists and support staff; it boasts the country's largest concentration of high quality sports training facilities and is an aspirational backdrop for businesses and individuals wanting to improve their performance.
Loughborough University's Executive Director of Sport, John Steele comments: "The Elite Athlete Centre is an outstanding addition to Loughborough's already excellent sporting heritage and combines with existing facilities to provide a truly world class venue for high performance athletes and teams."
The altitude rooms allow athletes to "live high whilst training low".  This prepares their bodies for competition by improving their oxygen carrying ability as well as maximum oxygen take-up.
In additional to the eight designated wheelchair accessible rooms, all of the EAC's 36 other bedrooms can be converted to accessible rooms.
The Nutritional Lounge and café will provide hospitality services with health, wellbeing and training in mind.
Quiet Zones and Passive Zones will provide areas to relax or take part in activities such as yoga and pilates, whilst the Active Zone will include a climbing and bouldering wall.
The flexible and scalable seminar space for up to 30 athletes can be expanded into the Nutritional Lounge, providing opportunities for larger events.
"The EAC is not just an exciting addition to our portfolio, it is also an opportunity to further demonstrate our position as a global leader in the provision of inspiring and aspirational accommodation, conference and events spaces," comments Emma Boynton, Head of Sales and Marketing at Imago Venues.
"Loughborough University has the confidence in Imago Venues to operate the new facility; not just because of our historic commercial success but our ability to deliver exceptional customer service to each and every individual that walks through our doors."
Imago Venues and Loughborough University are developing a host of packages available to athletes, teams, businesses and individuals that include use of the EAC, as well as the University's other world leading sports and event facilities.  These can be combined with leading coaches, sports scientists, nutritionists and experts in the physical and mental needs of competitive activity.
The EAC will open in Autumn 2018.  Bookings and enquiries can be made from November 2017.
http://www.welcometoimago.com/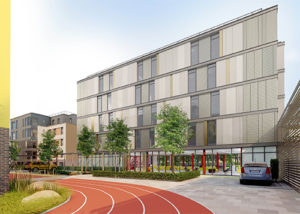 Imago Venues – Overview
http://www.welcometoimago.com/
Launched in 2003, Imago Venues unifies Loughborough University's conference and events venues under one brand which offers high quality meeting spaces, venues and accommodation along with excellent sports and leisure facilities.
Imago Venues portfolio of venues includes:
Burleigh Court; a four-star conference centre and hotel which has 26 meeting rooms, 150 square metres of exhibition space, 225 bedrooms, bar, restaurant plus a spa and leisure club
Holywell Park; a high-quality specialist conference centre for up to 300 delegates, set in landscaped grounds – it is a versatile conference venue
Imago at Loughborough University; conference, training and exhibition facilities for up to 2,000 delegates with good quality accommodation and access to Loughborough University's extensive sports and leisure facilities
The Link Hotel; located just off junction 23 of the M1 it is an excellently located hotel for delegates to meet and network or rest before the next stage of their journey.
All Imago Venues facilities are located in the Midlands on the world-renowned Loughborough University Campus, 1 mile from junction 23 of the M1, 8 miles from Nottingham East Midlands International Airport, 3 miles from Loughborough mainline station.