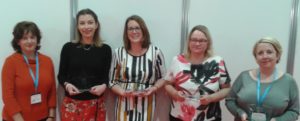 The Business Show at ExCel, London has been the host event and location for the announcements and presentations of the National Final VA of the Year Awards 2018, with the Awards presented by Jane Cattermole, founding Director of Bay Tree VA, a widely respected previous winner of the England VA of the Year crown in 2014.
The Regional Final and title winners for VA of the Year 2018 gathered in London to  attend a session presentation by Jane Catttermole of Bay Tree VA about how entrepreneurs and SMEs can work with Virtual Assistants.
Chair of the Panel of Judges, John Palmer, presided over proceedings on the day, and he had great pleasure in announcing Joanne Manville as the 2018 winner of VA of the Year for England.
Joanne,operates as a 'sole trade' since 2015 with a small team of select Associates, represents the South West having been the South West England VA of the Year for both this year and in 2017. Joanne first achieved UK VA Award success as Runner-up in the UK Best Newcomer 2016 category.
As the repeated Award successes suggest, Joanne has diligently continued to work hard on developing her own skill-set, investing wisely in CPD and establishing her own support networks and guidance from established coaches and mentors. Joanne also pays great attention to what her own clients provide as feedback about her VA services, and utilises social media effectively to market her business services and maintain rapport.
The Panel of Judges had a tough task in considering and evaluating the high quality of National Final candidates, with representatives from each 2018 England Regional Final – those being: Amanda Ryan of Social Elf (North West); Rachel Locke of Arlo Private PA (North East); Elizabeth Wright of Admin and More (Midlands); and Felicity Webb of  The Virtual Assistant UK (South East).
As England VA of the Year 2018, Joanne now automatically qualifies for the UK Outstanding VA Grand Final to be held at the UK VA Conference, hosted by The PA Show at Olympia, London on 27th February 2019. Good luck Joanne!
John Palmer, Chair of Panel of Judges said, "Joanne is a very worthy winner who will have yet more tough competition in February 2019. The standard of entries continue to evolve and develop with the very best Virtual Assistants proving they are extremely competent business leaders – the Judges always have challenging choices to make.
We must extend our thanks to all of our talented judges, supporters, hosts and event staff that help pull together the Regional schedules. We must also thank The PA Show for kindly inviting the UK VA Conference to be a part of their annual event in recent years".
Pictured above (left to right): Jane Cattermole, Felicity Webb, Joanne Manville, Elizabeth Wright and Rachel Locke – unfortunately, Amanda Ryan was unable to attend – and finally 2018 Winner Joanne with 2014 Winner Jane)