Choose from 32 fantastic training & development sessions at office*
REGISTER FOR YOUR FREE VISITOR PASS TODAY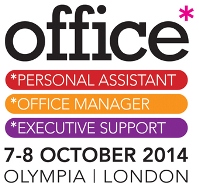 The essential annual event for executive support professionals, office* is where 1000's of PAs, EAs and office managers network, get inspired, and learn new skills. Packed full of invaluable tools, office*'s 32-strong, 4-theatre, seminar and master class training programme is now available to view online.
"Great selection of #training seminars @officeshow this year, looking forward to picking up some more new skills, insights and inspiration." @DebbieG_EA
Whichever sessions you choose, you'll benefit from excellent tuition from top industry experts at a fraction of the normal cost – just £139 for 6, £99 for 3 or £39 per 1-hour session. The full programme is available to view, and book, online today.
Sessions include:
• How to lead your director and board to success
Janet Ashford and Jean Pousson, The Institute of Directors
• Show Me The Money! Timesaving (and jaw-dropping) productivity tips using Microsoft Office
Vickie Sokol Evans, Microsoft Certified Trainer (redcapeco.com)
• How to Be a Productivity Ninja
Grace Marshall, Think Productive
• Show Stress Who's Boss!
Carole Spiers, CEO, Carole Spiers Group
• End your Outlook Overwhelm
Shelley Fishel, The IT Training Surgery
Avoid missing out on your first choice of seminars and book in advance today! Register for your free entry pass now (£20 on the door).