VA Voice Award Winners 2022 :
Book for VA Start-ups : VA Training Providers : Free Prize Draw Winner
Social Media for Business : Accounting App : Business Doc App
Communications App : Creative App : CRM/Project Manager App
File Management App :  Mailer App : Password Manager App :
Webmaster App : Time Manager App : Social Media App :
We have just experienced another stupendous record breaking year of responses, participants and valid votes!
HUGE thank you to everyone for their contributions, thoughts feedback and of course those valued votes, more than 19,000 votes have been lodged!
We have great pleasure begin to release details of the 'most popular' winners in the following categories:
###

How to be a Virtual Assistant
by Catherine Gladwyn
Finalists/Shortlisted
The Virtual Assistant Handbook – Nadine Hill – Edition 2009; Virtually Painless – Kathy Soulsby – Edition 2017;
How to Be a Virtual Assistant – Catherine Gladwyn – Edition 2018;
Survival Skills for Freelancers – Sarah Townsend Edition 2020; The 20% Rule – Catherine Gladwyn – Edition 2020
###

VACT – Amanda Johnson
Finalists/Shortlisted
How to be a VA – Catherine Gladwyn; Sarah-Jane Heath Coaching; The VA Handbook – Joanne Munro;
Tomorrows VA – Shelley Fishel; VA to OBM – Victoria Tretis; VACT – Amanda Johnson
###

LinkedIn
Finalists/Shortlisted
Facebook, Instagram, LinkedIn, TikTok, Twitter
###

Xero
Finalists/Shortlisted
FreeAgent, Quickbooks, Quickfile, Sage, Wave Accounting, Xero
###

Microsoft 365 
Finalists/Shortlisted
Free Office, Google Workspace, Microsoft 365, OpenOffice, Zoho Workplace
###

Zoom 
Finalists/Shortlisted
Instagram, Loom, MS Teams, WhatsApp, Zoom
###

Canva 
Finalists/Shortlisted
Adobe Suite, Canva, GIMP, Sketch, Visme
###

Trello 
Finalists/Shortlisted
Asana, ClickUp, Hubspot, Slack, MS Teams, Trello
###

Google Drive 
Finalists/Shortlisted
Adobe, Docusign, DropBox, Google Drive, OneDrive, We Transfer
###

Mailchimp 
Finalists/Shortlisted
Active Campaign, Convertkit, Hubspot, Mailchimp, Mailerlite
###

Last Pass 
Finalists/Shortlisted
IPassword, BitWarden, Dashlane, Keeper, Last Pass
###
WordPress 
Finalists/Shortlisted
Divi, Squarespace,Weebly, Wix, WordPress
###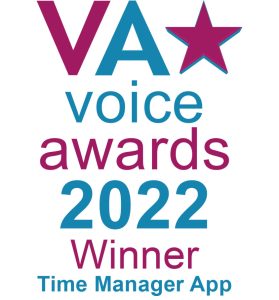 Toggl
Finalists/Shortlisted
Clickup, Clockify, Minute Doc, My Hours, Toggl
###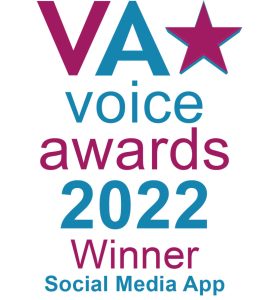 Hootsuite
Finalists/Shortlisted
Buffer, Hootsuite, Meet Edgar, Planoly, Publer
###
Free Prize Draw Winner
Congratulations to
Catherine Harrison, Bee-Assisted
###
Congratulations to all of the category winners, finalists and short-listers.
Our thanks to everyone for their valued participation and support.
We are looking forward to VA Voice Awards 2023 already!