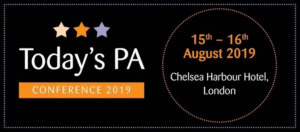 Two weeks left now to get your Early Bird ticket for the annual Today's PA Conference taking place on 15th – 16th August in Chelsea, London.
EARLY BIRD rate is valid till 31st March.
Days 1&2 – £580-680 (later a standard rate of £640-780 will apply)
Day 2        – £290-340 (later a standard rate of £320-390 will apply)
Special rates for group bookings, 8 delegates or more (get in touch with us)
For more details and booking please visit www.todaysPAconference.co.uk
First Day – 15th August – Time Management – Microsoft Outlook Masterclass
This multi award-winning productivity course covers 156 Microsoft Outlook tips.
In my experience, Outlook Masterclass delegates save around 90 minutes every day using my tips. That's 7.5 hours a week given back to you to do other things!
Second Day – 16th August – Conference Day
Inspiring speakers!
Rob Neil OBE, Ministry of Justice – Employee Engagement & Positive Organisational Culture – The PA Perspective
Eleanor Marshall, Pinterest – I'm Not an Accidental PA (Anymore) – The PA Role as a Career
Darren Clark, Spotless Group – Story of Triumph Through Adversity
Sara Harris MBE, Business developer, Executive Coach, Motivational Speaker – In Life You Never Stop Learning
Andy Workman, Mindset Specialist, Author & Clinical Hypnotherapist – Playing the Cards Life Deals You
– Developing Greater Trust with Your Manager & Time Saving Microsoft Tips
Two Panels
What Do Leaders Look for in Their PAs
How PAs and Managers Work Together
For more details and booking please visit www.todaysPAconference.co.uk
Venue