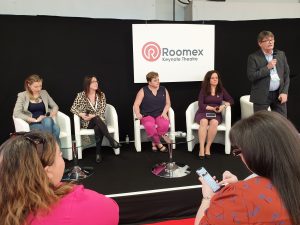 Welcome to #VACon 19 – VA Breakfast Panel Session gets underway with Felicity Webb, Catherine Gladwyn, Amanda Johnson and Panel Chair Lina Bourdon (FSB Women).
The second day of the PA Show 2020 hosts the UK VA Conference 2020 with the extremely popular panel session 'VA Breakfast' that will focus on the value, or not, of Social Media for Virtual Assistants.
This is a free session that will require you to register for the PA Show and then indicate that you are attending to ensure you can gain early access to the show at ExCeL, London at entry gateway "S1".
This year our Panel of Experts includes:
Caroline Wylie – Co-founder of Society of Virtual Assistants
Catherine Gladwyn – Delegate VA, VA Trainer and Author of 'How to be a Virtual Assistant'
Jane Cattermole – Bay Tree VA – a multi-award winning VA business, Engalnd VA of the Year 2014
Panel Chair: Joanne Hawkins – Multi-award winning VA business Executive VPA
Join us for our Breakfast session to get VA Day off to a flying start. Reserve your place now – for the last seven years this session is always a 'sell out' and fully booked with a waiting list.
The session's Chair will ask our panel of successful and Award winning VAs to share their personal preferences and tips for making Social Media effective.
With the ongoing developments of LinkedIn adding 'Open for Business' and 'Pro Finder' – the dynamics of the marketing landscape for Virtual Assistants continues to shift and evolve. Our panel will discuss and share opinions on which marketing channels and processes work, and why.
Click here for your free registration to attend The PA Show and then select your 'education program' to book your learning and development sessions. (UK VA Conference & VA Breakfast).