VA Awards – South West England 2017
New venue and event Partner, Business Showcase South West, awaited the Finalists for the South West VA of the Year 2017 announcement and presentations.
A top class event with the UK VA Awards centre stage in the Keynote Theatre ahead of Google and Facebook's sold out sessions! We must express our thanks to Jamie and his team at Business Showcase South West for their kind hospitality and strong support for the UK VA Awards.
VA of the Year – South West of England 2017:
Winner: Joanne Manville – Joanne Manville Virtual Assistance – joannemanville.co.uk
Runner Up: Emma Conway-Hyde – The Umbrella Tree – www.theumbrellatree.co.uk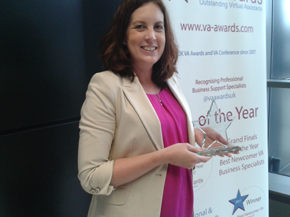 | | | |
| --- | --- | --- |
| Winner South West 2017 – Joanne Manville of Joanne Manville Virtual Assistance | | 2017 South West England Runner up Emma Conway-Hyde of The Umbrella Tree |
Winner Joanne Manville will have been in business for 2 years this month 9oct 2017), and has previously won as Runner Up Best Newcomer VA 2016, and names as a Finalist for the Exeter Business Awards Entrepreneur of the Year 2016. Joanne can proudly say that 100% of clients surveyed at the end of their project or at the 3-month point rated her service as 'Excellent' and 100% would recommend her business services to other entrepreneurs. Well done Joanne!
Emma Conway-Hyde was unable to attend event due to her commitment and dedication to her clients – stepping in to support a client who was unable to host another event. Based in Dorset Emma has over 20 years of experience as an administrator and PA in both the public and private sector. Emma's services include PA Support to Coaches, Speakers, Trainers and small business owners along with social media support, email marketing and event and project coordination.